Finale Finanzierung ETH EEIT
This is me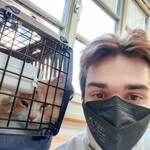 Nick name

Gregylol
Age

21 years
Highest education

ETH Zurich
What would you like to ask?

Contact Student
---
This is my Credit Motivation
Sehr geehrte Investoren

Dank der stark gestiegen Hypothekarzinsen können mich meine Eltern erst in einigen Monaten vollständig finanziell unterstützen. Bereits jetzt können sie mich schon mit einem gewissen Betrag unterstützen, leider reicht dieser aber nicht ganz, da wir eben nicht mit so stark steigenden Hypothekarzinsen gerechnet haben. Ab September werden sie nochmals ein gutes Stück mehr finanziellen Spielraum haben, um mich mit genügend Mitteln unterstützen zu können und noch ein gewisses Polster übrigzuhaben für allfällige Teuerungen. Zusätzlich werde ich noch etwas von meinem Praktikum angespart haben, was für unerwartete Ausgaben auf die Seite gelegt wird. Sprich ab September werde ich eigentlich nicht mehr durch mittel von Investoren finanziert.

Bisher habe ich 2 Kredite aufgenommen:

https://splendit.ch/auction/eeit-bei-der-ethz

https://splendit.ch/auction/bachelor-elektrotechnik-und-informatik-eth-z-1

Dies wird mit Sicherheit die letzte Finanzierung sein, die ich bis zum Berufseinstieg benötigen werde.

Insgesamt werde ich, 21500 aufgenommen haben. Dies ist zwar kein kleiner Betrag, aber mit den beruflichen Chancen, die mir dies Studium ermöglicht, sollte die Rückzahlung kein Problem werden.

Nun zu meinem Studium:

Ein Elektrotechnik- und Informatikstudium bietet eine vielversprechende Karriereoption für technologiebegeisterte Menschen. Durch die Kombination von Elektrotechnik und Informatik erlange ich ein breites Wissensspektrum und bereite mich auf eine zunehmend digitale Welt vor. Das Studium ermöglicht es mir, elektronische Schaltungen zu entwerfen, komplexe Algorithmen zu programmieren und innovative Lösungen für technische Probleme zu finden. Als Absolvent habe ich ausgezeichnete Karrieremöglichkeiten in Bereichen wie Telekommunikation, Energie, Automobilindustrie, Robotik und IT-Dienstleistungen. Ein Elektrotechnik- und Informatikstudium ist die richtige Wahl für mich, um meine Fähigkeiten zu entwickeln und einen positiven Einfluss auf die Gesellschaft zu haben.

Ich hoffe, Sie unterstützen mein Projekt noch einmal. Ich danke Ihnen bereits jetzt für Ihr Interesse.
---
This is what I need
Credit amount

CHF 4'500
Maximum interest rate

6.5%
Start date

June 2023
Study time

24 months
Re-payment starts

June 2025
Re-payment time

36 months
Loan fully paid back

May 2028
---
This is my plan
School/University

ETH Zurich
Main field of study

EE und IT
Additional fields of study

EE und IT
Begin of study

September 2022
End of study

August 2025
Current semester

2
Plans after study

Ich würde direkt in die Arbeitswelt einsteigen nach dem Studium. Der Studiengang hat sehr gute Berufschancen, es sollte also kein Problem sein zeitnah nach dem Studium eine Stelle zu finden.
Auction
2 bids, CHF 2'500 of CHF 4'500 filled
Calculate your sustainable return
CHF 4'500
Investment Amount
5.0%
Interest Rate
Your return (net of fees)
-
Currently Valid Bids
investor
Amount
Interest
Submitted
Staufel
6%
24.05.2023 11:07
Contact Student
You have to be registered as investor to contact students.
Place bid
You need to complete the full registration first in order to place a bid. Please click on "Register as Investor"in the navigation bar.
You have to be registered as investor to place bids.
Sorry, but you can not place bids yet!
To place bids you must be registered as investor and have an active splend!t account.
Stop your auction early?
You're there! Investors like you and placed bids for the full amount you requested in your auction. Well done! Just be aware that if you stop the auction now, you will give up our chance of receiving better offers until expiry.
You are about to place an all-in! bid!
Are you sure you want to place this all-in! bid?
Amount: CHF 4500.00
Interest: %
Period: 60 Months
Payout date: June 2023
You are about to place a bid...
Are you sure to place this bid?
Amount: CHF
Interest: %
Period: 60 Months
Payout date: June 2023
Please adjust your settings
The interest rate will result a negative return and you will not be able to place bid
Lender full filled action settings
Lender full filled action description