Funding request of the Master Program in International Tourism
This is me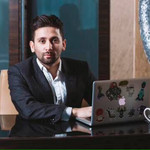 Nick name

KennyUsi
Age

29 years
Highest education

Universita della Svizzera Italiana
What would you like to ask?

Contact Student
---
This is my Credit Motivation
I am Kanan Shamilov and I hold a Bachelor Degree in Finance and graduated in 2013 and worked as Marketing Director, Founder and CEO of event management company Sound Of Space LLC and Switzerland based Lifestyle Magazine & Online Retail Shop - Kenleaks Magazine.
After my work experience in the hospitality industry , (Ultra Luxury Hotel & Resort) as Business Development Manager and Event Manager, where I was presenting the interests of the owners, my passion for the tourism industry has increased and motivated me to continue and get in- depth knowledge of the industry.
Due to this motivation, I have applied to the International Tourism Master program in Universita della Svizzera Italiana where I was accepted and currently studying in the second semester of the course in Lugano, Switzerland.
Unfortunately, with the negative impact of the pandemic having some temporary difficulties with the tuition fee payment and money transfer limit in order to complement my professional education with a business profile and pursue my Master Degree in USI.
Required loan: 15,000 CHF with the interest rate 6 %
I plan to pay my loan in 18 equal instalments after an interest-only period of 12 months.
I would like to thank you in advance for your support and do not hesitate to contact me in case of any required additional information.
Kanan Shamilov
---
This is what I need
Credit amount

CHF 15'000
Maximum interest rate

6%
Start date

September 2021
Study time

18 months
Re-payment starts

March 2023
Re-payment time

24 months
Loan fully paid back

February 2025
---
This is my plan
School/University

Universita della Svizzera Italiana
Main field of study

International Tourism & Hospitality
Additional fields of study

International Tourism & Hospitality
Begin of study

September 2020
End of study

August 2022
Current semester

4
Plans after study

After the finishing the master program i am motivated to work in tourism industry as DMO- Destination Management/ Marketing Organization or Tourism Board to develop sustainable tourism in the region in an order to provide sustainable touristic experience to the visitors and tourists.

Also i am hardly working on my own projects and start up - Kenleaks Magazine & Store.
Auction
2 bids, CHF 1'500 of CHF 15'000 filled
Calculate your sustainable return
CHF 15'000
Investment Amount
5.0%
Interest Rate
Your return (net of fees)
-
Currently Valid Bids
investor
Amount
Interest
Submitted
Superlender
6%
19.09.2021 13:12
Contact Student
You have to be registered as investor to contact students.
Place bid
You need to complete the full registration first in order to place a bid. Please click on "Register as Investor"in the navigation bar.
You have to be registered as investor to place bids.
Sorry, but you can not place bids yet!
To place bids you must be registered as investor and have an active splend!t account.
Stop your auction early?
You're there! Investors like you and placed bids for the full amount you requested in your auction. Well done! Just be aware that if you stop the auction now, you will give up our chance of receiving better offers until expiry.
You are about to place an all-in! bid!
Are you sure you want to place this all-in! bid?
Amount: CHF 15000.00
Interest: %
Period: 42 Months
Payout date: September 2021
You are about to place a bid...
Are you sure to place this bid?
Amount: CHF
Interest: %
Period: 42 Months
Payout date: September 2021
Please adjust your settings
The interest rate will result a negative return and you will not be able to place bid
Lender full filled action settings
Lender full filled action description