HSG MBA by Deloitte Manager
This is me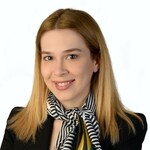 Nick name

Pinar Y.
Age

29 years
Highest education

University of St. Gallen
---
This is my Credit Motivation
Hello!
My name is Pinar Yaktiyol and I am a University of St. Gallen MBA candidate with expected graduation in 2023. I was honored with the Women in Business Scholarship that covers a significant portion of my studies, however, I still need funds to cover part of the fees for the program.
Currently, I am a Manager at Deloitte Financial Advisory. I hold a Bachelor of Business Administration and find it a necessity to grow my skills in business and management through the MBA program. MBA would require me to resign from my role but open a myriad of opportunities ahead.
I look forward to being funded and finish my degree.
---
This is what I need
Credit amount

CHF 34'000
Maximum interest rate

8%
Start date

July 2022
Study time

12 months
Re-payment starts

July 2023
Re-payment time

36 months
Loan fully paid back

June 2026
---
This is my plan
School/University

University of St. Gallen
Main field of study

Full Time MBA
Additional fields of study

Full Time MBA
Begin of study

September 2021
End of study

August 2023
Current semester

0
Plans after study

I am very excited to be an MBA candidate at the University of St. Gallen. After the completion of the MBA program, I plan to grow my career at Deloitte Switzerland in Financial Advisory practice, based out of Zurich. Although this may seem like a linear career plan, reaching this objective requires extensive know-how in fields other than financial advisory. Hence, the MBA program ties back with where I see myself in a decade, helping me by building up business know-how through an intense curriculum and local cultural immersion. I am very optimistic about my job prospects in Switzerland, as the local market has a strong demand for valuation and M&A expertise. I also have started building a business network in Switzerland, since I work with my Deloitte Switzerland colleagues daily and would follow their guidance to find employment options. My ambitious and tight schedules were fueled by my passion for the ultimate objective – being a financial services business leader in my late 30s. For this very reason I recently shifted by narrow M&A focus into a wider Financial Advisory scope and also changed jobs by moving to Deloitte Turkey as a manager. Despite the hardship I have gone through as a student, I have very much landed at where I wanted to be back on the first year of my studies, which was taking executive responsibility before my 30s and grow into a leader in the following 10 years of my career.
Auction
Auction Closed
22 bids, CHF 34'000 of CHF 34'000 filled
Calculate your sustainable return
CHF 34'000
Investment Amount
6.0%
Interest Rate
Your return (net of fees)
-
Contact Student
You have to be registered as investor to contact students.
Place bid
You need to complete the full registration first in order to place a bid. Please click on "Register as Investor"in the navigation bar.
You have to be registered as investor to place bids.
Sorry, but you can not place bids yet!
To place bids you must be registered as investor and have an active splend!t account.
Stop your auction early?
You're there! Investors like you and placed bids for the full amount you requested in your auction. Well done! Just be aware that if you stop the auction now, you will give up our chance of receiving better offers until expiry.
You are about to place an all-in! bid!
Are you sure you want to place this all-in! bid?
Amount: CHF 34000.00
Interest: %
Period: 48 Months
Payout date: July 2022
You are about to place a bid...
Are you sure to place this bid?
Amount: CHF
Interest: %
Period: 48 Months
Payout date: July 2022
Please adjust your settings
The interest rate will result a negative return and you will not be able to place bid
Lender full filled action settings
Lender full filled action description