Invest in an MBA candidate
This is me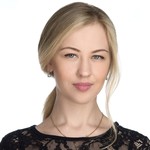 Nick name

Catherine de Lausanne
Age

27 years
Highest education

IMD Lausanne
---
This is my Credit Motivation
Hello! I am Ekaterina Volkovich and I always try to set challenging goals and do my best in order to reach them. One of my goals was to study at IMD in Lausanne, and I am happy that IMD accepted me as an MBA student (starting on January 2022) and honored with the Merit Scholarship. However, I still need funds to cover part of the fees and living expenses.
Please, contact me at katvolkovich@mail.ru. I will be happy to answer your questions.
About me: I have 6 years of experience in cyber security and data privacy, working last 4 years in Cyber Security department at KPMG. I graduated from Bauman Moscow State Technical University and have a specialist degree in information security (diploma with honors), I also had an internship during a semester at EPFL in Lausanne in the Computer Science faculty.
Request: I'm requesting the credit to help me fund part of IMD's MBA tuition fees and part of the living expenses while studying during a year.
Reason: It is very hard to find a loan of this size in Russia, particularly with an acceptable interest rate. In addition, it is impossible to have a loan in CHF. I have some savings, the scholarship from IMD, my parents helped me with a certain amount, however, I need more 40 000 CHF, so I would like to fund my studies with your help.
Plan to repay the loan: My goal is to find a job in Switzerland after graduation from IMD.
---
This is what I need
Credit amount

CHF 40'000
Maximum interest rate

7%
Start date

October 2021
Study time

24 months
Re-payment starts

October 2023
Re-payment time

48 months
Loan fully paid back

September 2027
---
This is my plan
School/University

IMD Lausanne
Main field of study

MBA (Master in Business Administration)
Additional fields of study

MBA (Master in Business Administration)
Begin of study

December 2021
End of study

December 2022
Current semester

0
Plans after study

My short-term goal after graduation from IMD is to change a location. I plan to live and work in Switzerland. Therefore, first I would like to become a Data Protection Officer (DPO) of a company in Switzerland.

My long-term goal is to change the direction what I am doing. Now I align the companies with the applicable information security and data privacy requirements. But I am also very interested in the automation topic. I think that it would be great to combine my skills in these two directions. I am interested in a development of data privacy automation tools to help DPOs to automate their tasks. Privacy by design is also a hot topic now.

If you are a potential employer I would be happy to discuss with you possible opportunities in Switzerland after my graducation. I did an investigation and the potential employers after IMD were the following companies: KPMG, Accenture, Nestlé, Danone, Siemens, Danaher, PMI, Hilti, Digital BCG, Bain Vector, Tera Pak, Logitech, Amazon, Johnson & Johnson, etc.

According to statistics on the IMD website, an average annual salary of graduates is $126,565 and a joining bonus of $36,926. Therefore, I am confident I'll be able to repay the loan.
Auction
Auction Closed
37 bids, CHF 40'000 of CHF 40'000 filled
Calculate your sustainable return
CHF 40'000
Investment Amount
5.0%
Interest Rate
Your return (net of fees)
-
Contact Student
You have to be registered as investor to contact students.
Place bid
You need to complete the full registration first in order to place a bid. Please click on "Register as Investor"in the navigation bar.
You have to be registered as investor to place bids.
Sorry, but you can not place bids yet!
To place bids you must be registered as investor and have an active splend!t account.
Stop your auction early?
You're there! Investors like you and placed bids for the full amount you requested in your auction. Well done! Just be aware that if you stop the auction now, you will give up our chance of receiving better offers until expiry.
You are about to place an all-in! bid!
Are you sure you want to place this all-in! bid?
Amount: CHF 40000.00
Interest: %
Period: 72 Months
Payout date: October 2021
You are about to place a bid...
Are you sure to place this bid?
Amount: CHF
Interest: %
Period: 72 Months
Payout date: October 2021
Please adjust your settings
The interest rate will result a negative return and you will not be able to place bid
Lender full filled action settings
Lender full filled action description