Investieren Sie in meine Berufliche Zukunft
This is me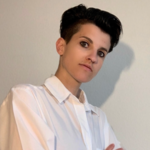 Nick name

L_93
Age

28 years
Highest education

FHNW Fachhochschule Nordwestschweiz
What would you like to ask?

Contact Student
---
This is my Credit Motivation
Liebe Investoren
Mein Name ist Lina Kinigadner, ich bin aktuell im 2. Semester und studiere Bioanalytik und Zellbiologie an der Fachhochschule Nordwestschweiz.
Als ich das Studium im Herbst 2021 gestartet habe, musste ich zusätzlich 1 Jahr ein Praktikum absolvieren, wo es mir nicht möglich war Geld zu sparen. Dabei musste ich zusätzlich auf einen Teil meines Ersparten zurückgreifen, da die monatlichen Ausgaben im Vergleich zu den Einnahmen höher ausgefallen sind. Der Praktikumslohn lag bei 1200.- im Monat. Von meinen Eltern erhalte ich keine Unterstützung, deshalb möchte ich sie auch nicht zusätzlich belasten.
Da ich mich voll und ganz auf das Studium konzentrieren möchte, habe ich mich dazu entschieden ein Darlehen aufzunehmen.
Mein Ziel ist es, im 4. Semester oder spätestens im letzten Jahr sprich 5. und 6. Semester eine Anstellung zu haben, um auch im Betrieb die Bachelorthesis schreiben zu können.
Die Rückzahlung des Darlehens kann deshalb auch bereits vor der angegebenen Zeit stattfinden.
---
This is what I need
Credit amount

CHF 20'000
Maximum interest rate

5%
Start date

June 2022
Study time

30 months
Re-payment starts

December 2024
Re-payment time

24 months
Loan fully paid back

November 2026
---
This is my plan
School/University

FHNW Fachhochschule Nordwestschweiz
Main field of study

Life Science
Additional fields of study

Life Science
Begin of study

September 2021
End of study

July 2024
Current semester

2
Plans after study

Wie bereits erwähnt ist es mein Ziel noch während dem Studium eine Anstellung zu finden. Nach Abschluss, dann denfinitiv mit einem 100% Pensum. Die Rückzahlung sollte deshalb kein Problem darstellen.


Mit diesem Abschluss ist definitiv ein Grundstein für eine erfolgreiche Zukunft gelegt. 98% der Studierenden finden direkt nach Abschluss eine Stelle in dem jeweiligen Fachgebiet (Erfahrungswerte der Hochschule - Kopie im Anhang).
Auction
6 bids, CHF 8'500 of CHF 20'000 filled
Calculate your sustainable return
CHF 20'000
Investment Amount
4.0%
Interest Rate
Your return (net of fees)
-
Currently Valid Bids
investor
Amount
Interest
Submitted
Kottke
5%
15.05.2022 09:51
Schnipsel68
5%
13.05.2022 09:49
jan33
5%
12.05.2022 09:20
berryman
5%
11.05.2022 10:51
Opossum
5%
10.05.2022 10:12
Contact Student
You have to be registered as investor to contact students.
Place bid
You need to complete the full registration first in order to place a bid. Please click on "Register as Investor"in the navigation bar.
You have to be registered as investor to place bids.
Sorry, but you can not place bids yet!
To place bids you must be registered as investor and have an active splend!t account.
Stop your auction early?
You're there! Investors like you and placed bids for the full amount you requested in your auction. Well done! Just be aware that if you stop the auction now, you will give up our chance of receiving better offers until expiry.
You are about to place an all-in! bid!
Are you sure you want to place this all-in! bid?
Amount: CHF 20000.00
Interest: %
Period: 54 Months
Payout date: June 2022
You are about to place a bid...
Are you sure to place this bid?
Amount: CHF
Interest: %
Period: 54 Months
Payout date: June 2022
Please adjust your settings
The interest rate will result a negative return and you will not be able to place bid
Lender full filled action settings
Lender full filled action description