Marketing is the thing
This is me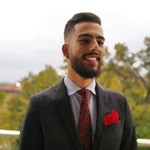 Nick name

DardMark
Age

24 years
Highest education

University of Neuchâtel
---
This is my Credit Motivation
Dear lenders,
In September 2016 I started my studies at the University of Neuchâtel. I am currently in my last year of studies in the communication field. In a fast changing world, I understand the importance of developing strong communication skills. That is the reason why I chose this path in order to be accepted in the masters in digital marketing and Communication in the well know Crea Geneva School (February 2020).

Seeking to finish my bachelor degree the best way possible to start my Masters degree in good conditions, I am looking for a loan to fund my cost of living. My rent is CHF 600/month and the tuition fee at the university is CHF 515/semester. So my living cost, with all the expenses, would be about CHF 16,000.
I am already working part-time during my studies but I really need to free up a lot of time to make sure I am giving my best.
I am asking for a loan of CHF 7000, as I will cover the rest with my part-time job, working less hours. I will attach my resume, as well as some works that I have done in my field and my grades, in order for you to see my work experiment.
I am already aware of the wonderful concept of Splendit. I have already made a successful credit request 3 years ago in January 2016.
I still have around CHF 20,00 left from the initial CHF 50,00 to pay until end of 2019 in trimestrial invoices of almost CHF 500. I do not have any open invoices and I join a proof of my payment history.
The CHF 7,000 will then top off my last credit for the previous reasons.
I count on your support to help me create the best future possible.
---
This is what I need
Credit amount

CHF 7'000
Maximum interest rate

7%
Start date

December 2018
Study time

22 months
Re-payment starts

October 2020
Re-payment time

36 months
Loan fully paid back

September 2023
---
This is my plan
School/University

University of Neuchâtel
Main field of study

Communication
Additional fields of study

Communication
Begin of study

September 2016
End of study

December 2019
Current semester

5
Plans after study

My main focus would be to attend the masters in Digital Marketing and Communication at the Crea Geneva School (member of the Inseec U.). With this degree I would be able to work with top companies that are directly working with the School in all crafts.
Becoming a marketing expert and gaining experience is a strong asset.

My life goal being to become an entrepreneur and changing the way we look at marketing, I find it really important to learn from the best and Crea is one of the top schools in the country.
Auction
Auction Closed
9 bids, CHF 7'000 of CHF 7'000 filled
Calculate your sustainable return
CHF 7'000
Investment Amount
5.0%
Interest Rate
Your return (net of fees)
-
Documents
---
---
---
---
---
---
Contact Student
You have to be registered as investor to contact students.
Place bid
You need to complete the full registration first in order to place a bid. Please click on "Register as Investor"in the navigation bar.
You have to be registered as investor to place bids.
Sorry, but you can not place bids yet!
To place bids you must be registered as investor and have an active splend!t account.
Stop your auction early?
You're there! Investors like you and placed bids for the full amount you requested in your auction. Well done! Just be aware that if you stop the auction now, you will give up our chance of receiving better offers until expiry.
You are about to place an all-in! bid!
Are you sure you want to place this all-in! bid?
Amount: CHF 7000.00
Interest: %
Period: 58 Months
Payout date: December 2018
You are about to place a bid...
Are you sure to place this bid?
Amount: CHF
Interest: %
Period: 58 Months
Payout date: December 2018
Please adjust your settings
The interest rate will result a negative return and you will not be able to place bid
Lender full filled action settings
Lender full filled action description