Paramedic student in need of your help
This is me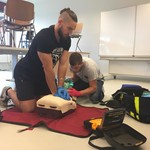 Nick name

Paramedic_student
Age

28 years
Highest education

ESAMB Genève
---
This is my Credit Motivation
English version, version française en bas
May I have your attention please!!
I'm actually a student at the paramedic care school in Geneva (ESAMB), I've passed the selection among a 100+ participants and we're currently a class of twenty students. After many declined requests for some student loans (public and private), I turn myself to a crowdfunding solution and Splendit looks like the best option fot a student. I need your help to complete my studies serenly. Paramedic is a rich, dynamic and exciting job, I really trust in listening and taking care of others and to be at their service.
I'm a very determined person, i'm loyal and humble, I will never give up something that I started
I need you !
I thank you a lot to consider my auction, and to took a bit of your precious time to have read my request.
Whoever saves one life, saves the world entire
Français:
Puis-je avoir votre attention?!
Je suis actuellement à l'école de soins ambulanciers de Genève (ESAMB), j'ai passé le concours d'admission où nous étions plus de 100 candidats, nous sommes 20 a avoir été séléctionnés. J'ai fais plusieurs demande de bourses (privées et publiques) mais elles ont toutes été refusées, je me tourne donc vers Splendit et sa plateforme de financement participatif qui senble être la meilleure alternative. Ambulancier est un métier riche, passionnant et dynamique, ces valeurs me reprèsentent beaucoup, j'aime être à l'écouteet prendre soin de mes patients.
Je suis quelqu'un de déterminer, je suis loyal et humble et je vais au bout des choses que je commence.
J'ai besoin de votre aide pour arriver à financer t terminer mes études.
Je vous remercie de prendre en compte ma demande et d'y avoir consacré un peu de votre temps si précieux.
Celui qui sauve une vie, sauve le monde entier
---
This is what I need
Credit amount

CHF 22'000
Maximum interest rate

5%
Start date

January 2019
Study time

18 months
Re-payment starts

July 2020
Re-payment time

36 months
Loan fully paid back

June 2023
---
This is my plan
School/University

ESAMB Genève
Main field of study

Soins Ambulanciers
Additional fields of study

Soins Ambulanciers
Begin of study

September 2018
End of study

September 2021
Current semester

1
Plans after study

After my studies I will work in a Emergency medical service in the region of Lausanne or Geneva.

with my degree I could apply to a post in the Swiss Medical Helicopter service (REGA) which is really excits me.

Après mes études, je veux traviller dans un service d'ambulance dans la région de Lausanne ou Genève. Avec mon diplôme d'ambulancier, je peux aussi postuler à la REGA ce qui m'intéresse énormement.
Auction
Auction Closed
11 bids, CHF 22'000 of CHF 22'000 filled
Calculate your sustainable return
CHF 22'000
Investment Amount
4.0%
Interest Rate
Your return (net of fees)
-
Documents
---
---


poursuites.jpg
Office des poursuites
---
Contact Student
You have to be registered as investor to contact students.
Place bid
You need to complete the full registration first in order to place a bid. Please click on "Register as Investor"in the navigation bar.
You have to be registered as investor to place bids.
Sorry, but you can not place bids yet!
To place bids you must be registered as investor and have an active splend!t account.
Stop your auction early?
You're there! Investors like you and placed bids for the full amount you requested in your auction. Well done! Just be aware that if you stop the auction now, you will give up our chance of receiving better offers until expiry.
You are about to place an all-in! bid!
Are you sure you want to place this all-in! bid?
Amount: CHF 22000.00
Interest: %
Period: 54 Months
Payout date: January 2019
You are about to place a bid...
Are you sure to place this bid?
Amount: CHF
Interest: %
Period: 54 Months
Payout date: January 2019
Please adjust your settings
The interest rate will result a negative return and you will not be able to place bid
Lender full filled action settings
Lender full filled action description