Help fund a Master Programme Student
Das bin ich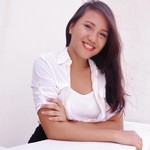 Nickname

Jayne
Alter

23 Jahre
Höchste Ausbildung

The Graduate Institute of Geneva
---
Darum brauche ich einen Bildungskredit
My name is Kristabela Garnace. I am 22 years old and I am coming from the Philippines. I have had the pleasure of being admitted for the Masters Programme of International Affairs at the Graduate Intsitute of Geneva.
It has been always a plan to further my studies for a more profitable profile. Immediately after graduating, I waited just a little to work in the emirates with the goal of closing the gap between earnings and time of labor so that I may pursue a career that I feel more passionate doing. Needless to say, studying in switzerland is abit expensive for my saving's worth. A year and a half of working only pays for my first semester's cost of living or my tuition.
My parents have made sure that I am able to finish my undergraduate and they are to make sure that my two other siblings do the same. With that circumstance, I am doing the financing on my own as this further educational attainment is a definite dream of mine.
When I got admitted, however, I did not have alot of second thoughts, It is a risk with a big pay off in the end. I chose Geneva and the institution that I am in because it is the best place in the world for my field and I planned to finance myself by working and studying at the same time. I am applying to Splendit with the hope that it can help to lessen my load; With that, be able to focus on my studies, graduate on time, and be able to work immediately. A linear path would be nice for once.
Please accept my gratitude for taking the time to read my profile and considering to invest on education.

---
Ich brauche
Erwünschter Betrag

CHF 16'000
Maximaler Zinssatz

5.5%
Anfangsdatum

November 2019
Zinsperiode

20 months
Beginn Rückzahlung

Juli 2021
Rückzahlungsdauer

24 months
Schulden zurückbezahlt

Juni 2023
---
Das ist mein Plan
Schule/Uni

The Graduate Institute of Geneva
Hauptstudienrichtung

Interdisciplinary Master in International Affairs
Zusätzliche Studiengebiete

Interdisciplinary Master in International Affairs
Studienbeginn

September 2019
Abschluss des Studiums

Juni 2021
Derzeitiges Semester

4
Plan nach Studium

My general professional interest is to be working for an institution geared towards innovations and well being of societies may it be private companies or NGOs. I am eager to invest in my profile and driven to gather important networks that will have good influence on my career. For the short term, I teach english on the side and will still work light so that I may already start building up my payment for the loan I may incur here.
Auktion
Auktion geschlossen
17 Gebote, CHF 16'000 of CHF 16'000 gefüllt
Berechne deinen nachhaltigen Ertrag
CHF 16'000
Investierter Betrag
4.0%
Zins
Student kontaktieren
Du musst als Investor angemeldet sein, um Studenten zu kontaktieren.
Gebot abgeben
Deine Registrierung ist noch nicht abgeschlossen. Bitte klicke auf "Als Investor registrieren" in der Navigationsleiste.
Du musst als Investor registriert sein, um ein Gebot abgeben zu können.
Sorry, aber du darfst noch nicht mitbieten!
Um mitbieten zu können, musst du als Investor registriert sein und ein aktives splend!t Konto haben.
Auktion frühzeitig beenden?
Du bist am Ziel! Investoren finden dich gut und haben den vollen Betrag deiner Auktion geboten. Gut gemacht! Beachte einfach, dass du die Chance auf bessere Gebote aufgibst, wenn du die Auktion jetzt beendest.
Du möchtest ein all-in! Gebot abgeben!
Bist du sicher, dass du dieses all-in! Gebot abgeben möchtest?
Betrag: CHF 16000.00
Zins: %
Laufzeit: 44 Monate
Auszahlungsdatum: November 2019
Du möchtest bieten...
Bist Du sicher, dass du dieses Gebot abgeben möchstest?
Betrag: CHF
Zins: %
Laufzeit: 44 Monate
Auszahlungsdatum: November 2019
Bitte passen Sie Ihre Einstellungen an
Der gewählte Zins wird zu einer negativen Rendite führen. Sie können damit kein Angebot platzieren.
Lender full filled action settings
Lender full filled action description