Accepted Boston University Postgraduate Student
Das bin ich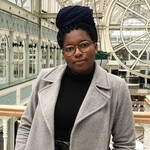 Nickname

Dual Degree Master Student
Alter

24 Jahre
Höchste Ausbildung

Boston University & Munich Business School
---
Darum brauche ich einen Bildungskredit
Dear Investors,
My name is Michaela (24) am a polyglot, currently in my third semester as a Master student in International Business at Munich Business School (MBS) and recently got accepted to further my studies with a dual degree in Global Marketing Management at Boston University (BU).
As you take the time in reading my motivation letter, I hope that you get to know me, the brains and the person behind this writing.
Motivational Letter
From a very young age I was aware that I wanted to achieve a lot of great things in my life. I have a mind filled with many different, dreams, goals and theories enabling me to contribute and talk about lots of topics because I am not afraid to.
With such drive and eagerness, developing and shaping this is essential to excel throughout life which is why I knew that entering the academic world would be of aid not just for me but for many factors and elements around me.
Having organised bake sales in high school and college I felt it natural to step up as team lead for group assignments and projects. This, throughout my school days in Zurich and London to academic days in Oxford, Buckingham and Munich. Thanks to these experiences I am always motivated to engage in university related activities, for instance being in the student council, help at events and studies. In other words, I am an enthusiast for leadership and see myself in leading positions.
Fast forwarding, I now find myself in the middle of my Master thesis for my degree at MBS and an acceptance letter to further my masters in adding a second masters at BU. Fathoming the thought that I have been given the recognition once again to allow my mind to explore these many theories of mine is filling my heart with gratitude.
One might wonder why though. Well, it's simple to me, the sky is not my limit in all true sense I have always known to be an achiever for greatness. So, as the opportunity presented itself and I got nominated to join the partner university for a second master's degree I couldn't pass on it. However, as an individual with the eagerness to start new things in life (e.g., a degree) I have encountered one challenge after the other.
For instance, being the youngest of six children life is not always as financially smooth as one would want it to be. As a result of that, I have taken it upon myself to work, part-time, during my full-time studies and despite the workload I have always worked towards success in both my academic and professional career. Nevertheless, it is not enough to sustain myself in my further studies, which is why I am requesting this particular financial loan, to be able to afford my further studies and get closer to my life goals which are varying from expanding my knowledge, to becoming a voice of academia and create change in the globe for the better.
To further ensure you on this, I have added a guarantor for this auction.
Nevertheless, if you would like to know more about me, feel free to contact me via LinkedIn
I look forward to hearing from you and thank you for your time and consideration.
Yours sincerely
Michaela Dema
---
Ich brauche
Erwünschter Betrag

CHF 50'000
Maximaler Zinssatz

6%
Anfangsdatum

November 2022
Zinsperiode

9 months
Beginn Rückzahlung

August 2023
Rückzahlungsdauer

37 months
Schulden zurückbezahlt

August 2026
---
Das ist mein Plan
Schule/Uni

Boston University & Munich Business School
Hauptstudienrichtung

Global Marketing Management & International Business
Zusätzliche Studiengebiete

Global Marketing Management & International Business
Studienbeginn

September 2021
Abschluss des Studiums

September 2023
Derzeitiges Semester

3
Plan nach Studium

After successful complition of my second master at Boston University, my aim is to continue with my professional career.

With my well established academic and professional background I have secured a pathway to several fields (i.e., banking, marketing, fintech, fashion etc.), enabling myself to have options to make the most out of my developed knowledge.

Therefore, I look forward in joining the industry which suits my needs and wants best. Which include having the ability to apply my knowledge for the better. Aswell as my brother got his funding through splendit and is repaying after successfully graduating from his medical studies & working in the desired field, I am confident that I will repay the requested loan within the calculated timeframe to all generous investors.

Because, the sky is not my limit.
Auktion
Auktion geschlossen
14 Gebote, CHF 50'000 of CHF 50'000 gefüllt
Berechne deinen nachhaltigen Ertrag
CHF 50'000
Investierter Betrag
5.0%
Zins
Student kontaktieren
Du musst als Investor angemeldet sein, um Studenten zu kontaktieren.
Gebot abgeben
Deine Registrierung ist noch nicht abgeschlossen. Bitte klicke auf "Als Investor registrieren" in der Navigationsleiste.
Du musst als Investor registriert sein, um ein Gebot abgeben zu können.
Sorry, aber du darfst noch nicht mitbieten!
Um mitbieten zu können, musst du als Investor registriert sein und ein aktives splend!t Konto haben.
Auktion frühzeitig beenden?
Du bist am Ziel! Investoren finden dich gut und haben den vollen Betrag deiner Auktion geboten. Gut gemacht! Beachte einfach, dass du die Chance auf bessere Gebote aufgibst, wenn du die Auktion jetzt beendest.
Du möchtest ein all-in! Gebot abgeben!
Bist du sicher, dass du dieses all-in! Gebot abgeben möchtest?
Betrag: CHF 50000.00
Zins: %
Laufzeit: 46 Monate
Auszahlungsdatum: November 2022
Du möchtest bieten...
Bist Du sicher, dass du dieses Gebot abgeben möchstest?
Betrag: CHF
Zins: %
Laufzeit: 46 Monate
Auszahlungsdatum: November 2022
Bitte passen Sie Ihre Einstellungen an
Der gewählte Zins wird zu einer negativen Rendite führen. Sie können damit kein Angebot platzieren.
Lender full filled action settings
Lender full filled action description