MBA at IMD There's No better Investment
Das bin ich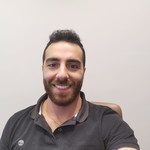 Nickname

ToniiMD
Alter

34 Jahre
Höchste Ausbildung

IMD Lausanne
---
Darum brauche ich einen Bildungskredit
Dears,
My name is Tony Mrad and i want to tell you a little bit about myself, my background and my plans and motivation for the future.
First of all, It is with keen interest that I want to inform you that i got accepted into one of the most successful business schools in Europe and the world IMD Lausanne.
I am highly motivated to pursue higher education for different purposes. Mainly to advance my career and develop as a professional. For the past nine years of professional experience, I was operating as site manager and the lead testing engineer in many projects across Europe, Africa and the Middle East with many international companies and clients and I realized that there was so much room for improvement in my line of work on the managerial level. For this and other reasons, I was motivated to expand my skills, and delve into the business side and acquire a new set of proficiencies to be able to make better business/management decisions.
I believe that the MBA program offered by IMD harmonizes perfectly with my expectations and will be an added value to my work as it will help me develop a complementary set of technical and business skills that are required for a successful career in consulting and project management, using the appropriate academic tools and methods.
This program will expand my knowledge in the financial, management and marketing fields and will assist me in developing my analysis, business reporting and leadership skills and therefore improve my performance as well as the performance of my company by saving time and cost through better business decision making.
Therefore, I trust that my academic background along with my work experience have contributed to my professional profile, and built the foundations and ambition needed to be a successful MBA graduate in the future.
The reason i need the 40,000 CHF is the living expenses and rent for the 11 months i will be spending in expensive lausanne, i have already secured a scholarship to pay part of my tuition fees and family members who promised to support with the remaining amount.
Finally, i am fully confident that your investment in me will be successful, as i would also be investing in myself for a year to build on my current experience, open new opportunities and unlock my true potential.
---
Ich brauche
Erwünschter Betrag

CHF 40'000
Maximaler Zinssatz

7.5%
Anfangsdatum

September 2021
Zinsperiode

24 months
Beginn Rückzahlung

September 2023
Rückzahlungsdauer

48 months
Schulden zurückbezahlt

August 2027
---
Das ist mein Plan
Schule/Uni

IMD Lausanne
Hauptstudienrichtung

MBA
Zusätzliche Studiengebiete

MBA
Studienbeginn

Dezember 2021
Abschluss des Studiums

Dezember 2022
Derzeitiges Semester

0
Plan nach Studium

Immediately following business school, I will seek a general management, leadership development or a project management role at a consulting firm such as Mckinsey, Booz Allen Hamilton or the like focusing on gaining exposure to business development and operations.

On the long run, I will seek an executive-level position at an industrial organization such as GE or Siemens leveraging my pre-MBA experience as an electrical engineer, to well-position me to reach my ultimate goal.

The average salary of a consultant or project manager (IMD Graduate) is 120000 CHF yearly. I will pay the interest during my studies using family support, and the main part of the loan from my salary.
Auktion
Auktion geschlossen
29 Gebote, CHF 40'000 of CHF 40'000 gefüllt
Berechne deinen nachhaltigen Ertrag
CHF 40'000
Investierter Betrag
5.0%
Zins
Student kontaktieren
Du musst als Investor angemeldet sein, um Studenten zu kontaktieren.
Gebot abgeben
Deine Registrierung ist noch nicht abgeschlossen. Bitte klicke auf "Als Investor registrieren" in der Navigationsleiste.
Du musst als Investor registriert sein, um ein Gebot abgeben zu können.
Sorry, aber du darfst noch nicht mitbieten!
Um mitbieten zu können, musst du als Investor registriert sein und ein aktives splend!t Konto haben.
Auktion frühzeitig beenden?
Du bist am Ziel! Investoren finden dich gut und haben den vollen Betrag deiner Auktion geboten. Gut gemacht! Beachte einfach, dass du die Chance auf bessere Gebote aufgibst, wenn du die Auktion jetzt beendest.
Du möchtest ein all-in! Gebot abgeben!
Bist du sicher, dass du dieses all-in! Gebot abgeben möchtest?
Betrag: CHF 40000.00
Zins: %
Laufzeit: 72 Monate
Auszahlungsdatum: September 2021
Du möchtest bieten...
Bist Du sicher, dass du dieses Gebot abgeben möchstest?
Betrag: CHF
Zins: %
Laufzeit: 72 Monate
Auszahlungsdatum: September 2021
Bitte passen Sie Ihre Einstellungen an
Der gewählte Zins wird zu einer negativen Rendite führen. Sie können damit kein Angebot platzieren.
Lender full filled action settings
Lender full filled action description