MBA Tuition assistance
Das bin ich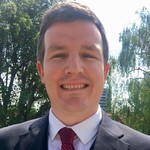 Nickname

Pat_Fic_MBA
Alter

36 Jahre
Höchste Ausbildung

University of St. Gallen
---
Darum brauche ich einen Bildungskredit
Dear ladies and gentlemen,
First of all, thank you for visiting my auction and considering investing in me. I promise that if you choose to do so, not only will repayment of the loan be my top priority, but I also ensure you that I will put my education to full use.
I've always known that I would pursue an MBA at some point in my life and being accepted to one of the leading European business schools is a lifetime opportunity. MBA at HSG is a logical step in fulfilling my career and life aspirations.
One of the main reasons that now is the time for me in pursuing my MBA is my wife. On August 19th, 2017, at the age of 34, she suffered a stroke and has since been recovering. She is still only able to work 30% and unfortunately insurance only cover 2 years of recovery. On August 19, 2019 she will most likely be considered disabled and will not be able to continue teaching.
This is devastating for my wife. She has been a teacher for 12 years and this will be the end of her career. This MBA will ensure my wife does not have to consider future employment and instead can focus on her quality of life.
We have sufficient savings remaining to cover the interest payments and I will be looking to begin working again as soon as possible after graduation. 25.000CHF will go directly to the University to fulfill my tuition fees and 10.000CHF will go towards assisting with living expenses.
---
Ich brauche
Erwünschter Betrag

CHF 35'000
Maximaler Zinssatz

7.5%
Anfangsdatum

Dezember 2018
Zinsperiode

13 months
Beginn Rückzahlung

Januar 2020
Rückzahlungsdauer

36 months
Schulden zurückbezahlt

Dezember 2022
---
Das ist mein Plan
Schule/Uni

University of St. Gallen
Hauptstudienrichtung

MBA
Zusätzliche Studiengebiete

MBA
Studienbeginn

August 2018
Abschluss des Studiums

August 2019
Derzeitiges Semester

1
Plan nach Studium

My wife and I have been living in Switzerland for 7 years and plan to stay here indefinitely. I am a C permit holder so there are no obstacles to employment. Ideally I find my first post-MBA position in sustainability at a large multi-national company in Basel or Zurich.

My ideal post-MBA career path begins and ends with sustainability and ethical business practices. My wife and I are very conscious of our footprint on the world and want to be a part of the future of sustainable living and reducing human impact.

2 year goal: My immediate 2 year plan is to secure employment to recoup savings and payback this student loan. My wife and I live within our means and do not like to have additional unnecessary debt so our goal is to pay back your loan as soon as possible. During this time, I intend to also develop a business plan in hopes of starting a renewable energy company.

5 year goal: In 5 years, my plan is to implement my business plan by relying on the experience from the previous 5 years and my business plan start a renewable energy company specializing in solar and wind power.

10 year goal: In 10 years, I hope to be able to pass on my experiences and teach future business leaders how to start a business and prosper through sustainability. I hope to have a job portfolio involving my own business, educating students and future entrepreneurs, and consulting new start-ups.

Receiving this loan will enable me to fulfill my dreams and become a positive impact on society. As soon as possible, my wife and I will become Splend!t investors to help the next generation of students gain education without financial worry. Thank you again for your time and consideration.
Auktion
Auktion geschlossen
16 Gebote, CHF 35'000 of CHF 35'000 gefüllt
Berechne deinen nachhaltigen Ertrag
CHF 35'000
Investierter Betrag
5.0%
Zins
Dokumente
---
---
---
---
---
---
Student kontaktieren
Du musst als Investor angemeldet sein, um Studenten zu kontaktieren.
Gebot abgeben
Deine Registrierung ist noch nicht abgeschlossen. Bitte klicke auf "Als Investor registrieren" in der Navigationsleiste.
Du musst als Investor registriert sein, um ein Gebot abgeben zu können.
Sorry, aber du darfst noch nicht mitbieten!
Um mitbieten zu können, musst du als Investor registriert sein und ein aktives splend!t Konto haben.
Auktion frühzeitig beenden?
Du bist am Ziel! Investoren finden dich gut und haben den vollen Betrag deiner Auktion geboten. Gut gemacht! Beachte einfach, dass du die Chance auf bessere Gebote aufgibst, wenn du die Auktion jetzt beendest.
Du möchtest ein all-in! Gebot abgeben!
Bist du sicher, dass du dieses all-in! Gebot abgeben möchtest?
Betrag: CHF 35000.00
Zins: %
Laufzeit: 49 Monate
Auszahlungsdatum: Dezember 2018
Du möchtest bieten...
Bist Du sicher, dass du dieses Gebot abgeben möchstest?
Betrag: CHF
Zins: %
Laufzeit: 49 Monate
Auszahlungsdatum: Dezember 2018
Bitte passen Sie Ihre Einstellungen an
Der gewählte Zins wird zu einer negativen Rendite führen. Sie können damit kein Angebot platzieren.
Lender full filled action settings
Lender full filled action description