Big data is valuable - Support my studies in Data and Business Analytics
This is me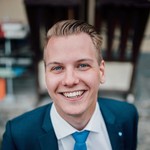 Nick name

Gaetan593
Age

26 years
Highest education

Macquarie University Sydney
---
This is my Credit Motivation
Dear Investors,

My name is Gaetan Rieben, a 26 years old a part-time student in International Business Management in Geneva, and an insurance broker in Lausanne. I will be proudly graduated this summer with my Bachelor of Science and will be working for a few months to keep investing in my future postgraduate studies.
Throughout my career, I have earned a recognized certificate as an insurance assistant by the formal association for insurance training and gained secure industry experience before enrolling for my bachelor's degree. During this curriculum at Haute Ecole de Gestion de Genève, I have been highly interested in analytics and applied economics and found a rising passion.
Furthermore, considering industry experts, big data is more valuable than goods trade across the world, and most companies require understanding data. I am willing to pursue a career in this industry.
Therefore, I have been accepted by Macquarie University to enroll for a master in Business Analytics in Sydney, starting in February 2021. I will be learning many applications of data analysis and would be able to work as a data analyst, business analyst, financial analyst, and so forth. I would like to study in Australia to gain international experience and point-of-view.
I have already saved money to cover my daily expenses for the first year, such as accommodation, transportation, insurance, and will be authorized to work 20 hours a week and 40 hours a week during school breaks. I do not doubt to enjoy this condition to gain experience in the data field. In any case, I have a consequent CV to work in the industry field part-time. Given this fact, I am looking for financial support to pay my tuition fee of AUD 79'000, in other terms, around 50'000 CHF.

Unfortunately, Swiss banks can not lend me money. Indeed, they are looking for full repayment before my 30. As I will be finishing this program at almost 29, I can not confirm this specific condition.
Please take note that my parents, who are owner of a house in Saillon, agree to enter as a guarantor of the loan. Even in that case, I don't find any suitable option provided by Swiss Banks.

Your support will enable me to finance my master program while studying and working to fund my daily expenses. I do no doubt my capacity to repay this loan, as a postgraduate student is paid in average annual salary AUD 98600 and full budget based on this insight has been established.
---
This is what I need
Credit amount

CHF 49'000
Maximum interest rate

6.5%
Start date

July 2020
Study time

32 months
Re-payment starts

March 2023
Re-payment time

48 months
Loan fully paid back

February 2027
---
This is my plan
School/University

Macquarie University Sydney
Main field of study

Business Analytics
Additional fields of study

Business Analytics
Begin of study

December 2020
End of study

December 2022
Current semester

4
Plans after study

Upon graduation, I am interested in staying in Australia to gain industry experience before coming back to Switzerland. I want to work as a business analyst for a private company, or a consultancy group of the fabulous BIG 4. I would be kindly interested in working in forensic as well for financial companies, in the Insurance industry, for instance. Besides, after a few years of full-time work, I would eventually be interested in completing my education with an MBA. Finally, I would love to set up my own company specialized in data analytics.
Auction
Auction Closed
29 bids, CHF 49'000 of CHF 49'000 filled
Calculate your sustainable return
CHF 49'000
Investment Amount
5.0%
Interest Rate
Your return (net of fees)
-
Documents
---
---
---
---
Messages
---
Contact Student
You have to be registered as investor to contact students.
Place bid
You need to complete the full registration first in order to place a bid. Please click on "Register as Investor"in the navigation bar.
You have to be registered as investor to place bids.
Sorry, but you can not place bids yet!
To place bids you must be registered as investor and have an active splend!t account.
Stop your auction early?
You're there! Investors like you and placed bids for the full amount you requested in your auction. Well done! Just be aware that if you stop the auction now, you will give up our chance of receiving better offers until expiry.
You are about to place an all-in! bid!
Are you sure you want to place this all-in! bid?
Amount: CHF 49000.00
Interest: %
Period: 80 Months
Payout date: July 2020
You are about to place a bid...
Are you sure to place this bid?
Amount: CHF
Interest: %
Period: 80 Months
Payout date: July 2020
Please adjust your settings
The interest rate will result a negative return and you will not be able to place bid
Lender full filled action settings
Lender full filled action description