Cambridge graduate needs funding for MBA
This is me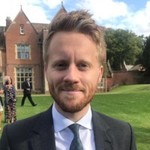 Nick name

Josh G
Age

31 years
Highest education

University of St. Gallen
---
This is my Credit Motivation
Hi there!
My name is Joshua and I'm currently here in Switzerland where I'm pursuing an MBA at the University of St.Gallen (HSG)
I am originally from the UK and studied for my Bachelors/Masters at the University of Cambridge. From here I went on to work for a HR Advisory company dedicated to the private equity industry where I worked across Europe, including a significant coverage of the DACH region. Here, I had broad exposure to consulting and helped to set up the firm's corporate finance/deal brokerage arm as well as helping to set up the firm's US presence.
I was delighted to be accepted at St Gallen for the Full Time 2022 intake. It is a fantastic school and I am looking to build my technical and strategic skill set further and to improve my leadership capabilities in order to help me take the next step in my career.
I am currently looking for a loan of CHF 20,000 to help to cover the cost of tuition and living.
Please do feel free to reach out to me on jrg29@hotmail.co.uk if you have any further questions. I will respond quickly!
Thanks again!
Joshua
---
This is what I need
Credit amount

CHF 20'000
Maximum interest rate

6%
Start date

December 2021
Study time

24 months
Re-payment starts

December 2023
Re-payment time

48 months
Loan fully paid back

November 2027
---
This is my plan
School/University

University of St. Gallen
Main field of study

MBA
Additional fields of study

MBA
Begin of study

September 2021
End of study

August 2022
Current semester

2
Plans after study

My plans post-MBA are to stay in the DACH region (where my partner is based) and to secure a job in the HR-technology and services sector.

I am passionate about helping people to have better experiences at work and to fulfill their potential, and I believe that this passion follows well from my previous career.

My 'fall-back' option is to return to the PE sector in an origination/talent networking role - either in London or the DACH region.
Auction
Auction Closed
5 bids, CHF 20'000 of CHF 20'000 filled
Calculate your sustainable return
CHF 20'000
Investment Amount
5.0%
Interest Rate
Your return (net of fees)
-
Contact Student
You have to be registered as investor to contact students.
Place bid
You need to complete the full registration first in order to place a bid. Please click on "Register as Investor"in the navigation bar.
You have to be registered as investor to place bids.
Sorry, but you can not place bids yet!
To place bids you must be registered as investor and have an active splend!t account.
Stop your auction early?
You're there! Investors like you and placed bids for the full amount you requested in your auction. Well done! Just be aware that if you stop the auction now, you will give up our chance of receiving better offers until expiry.
You are about to place an all-in! bid!
Are you sure you want to place this all-in! bid?
Amount: CHF 20000.00
Interest: %
Period: 72 Months
Payout date: December 2021
You are about to place a bid...
Are you sure to place this bid?
Amount: CHF
Interest: %
Period: 72 Months
Payout date: December 2021
Please adjust your settings
The interest rate will result a negative return and you will not be able to place bid
Lender full filled action settings
Lender full filled action description