Dorian goes to St Gallen MBA!
This is me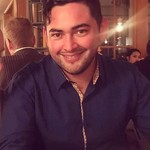 Nick name

Esteban7
Age

33 years
Highest education

University of St. Gallen
What would you like to ask?

Contact Student
---
This is my Credit Motivation
Dear investors,
My name is Dorian Guzman. I hold a bachelor's degree in Mechatronics engineering by Tec de Monterrey in Mexico, graduated in 2010 and I worked for 3 year in the manufacturing industry. After that, I decided to shift my professional career towards a more sustainable future: I finished a master's degree at TU Berlin, in Germany.
During the past 4 years I have been doing a PhD in data science of solar energy at Freiburg University (Germany), in a joint project with the biggest research center for solar energy in Europe; Fraunhofer ISE (Institute for Solar Energy).
Now, to create more impact in the energy sector, I would like to complement my professional education with a business profile and pursue an MBA degree at the University of St. Gallen. The expected expenses during the MBA are as follows:
- 58, 500 CHF full MBA fees (see the offer letter attached).
- 24, 000 CHF living expenses for 12 months (health insurance, rent, food, etc.).
From these expenses, I would like to borrow 55,000 CHF. According to the last employment report, the average salary of an MBA alumni is between 150,000 CHF to 255,000 CHF. These would allow me to cover the loan in 42 monthly installments, after a period of 18 months of interest-only.
I would like to thank you in advance for your support and please feel free to contact me in case of an additional information is needed.
Dorian
---
This is what I need
Credit amount

CHF 55'000
Maximum interest rate

7%
Start date

June 2021
Study time

18 months
Re-payment starts

December 2022
Re-payment time

42 months
Loan fully paid back

May 2026
---
This is my plan
School/University

University of St. Gallen
Main field of study

MBA
Additional fields of study

MBA
Begin of study

September 2020
End of study

September 2022
Current semester

0
Plans after study

I am totally committed to create a more sustainable future by increasing the bankability of renewable energy projects. Therefore, after the MBA I plan to combine my background in solar energy and data science with a business perspective. I would like to work as data scientist / consultant for the energy and finance sector.
Auction
8 bids, CHF 12'500 of CHF 55'000 filled
Calculate your sustainable return
CHF 55'000
Investment Amount
5.0%
Interest Rate
Your return (net of fees)
-
Currently Valid Bids
investor
Amount
Interest
Submitted
jan33
6.5%
12.06.2021 15:08
Krypto
6.5%
09.06.2021 16:25
dehaeigen
7%
09.06.2021 10:00
Arishaka
7%
08.06.2021 09:24
TERRI
7%
07.06.2021 15:16
Documents
---
---
---
---
Contact Student
You have to be registered as investor to contact students.
Place bid
You need to complete the full registration first in order to place a bid. Please click on "Register as Investor"in the navigation bar.
You have to be registered as investor to place bids.
Sorry, but you can not place bids yet!
To place bids you must be registered as investor and have an active splend!t account.
Stop your auction early?
You're there! Investors like you and placed bids for the full amount you requested in your auction. Well done! Just be aware that if you stop the auction now, you will give up our chance of receiving better offers until expiry.
You are about to place an all-in! bid!
Are you sure you want to place this all-in! bid?
Amount: CHF 55000.00
Interest: %
Period: 60 Months
Payout date: June 2021
You are about to place a bid...
Are you sure to place this bid?
Amount: CHF
Interest: %
Period: 60 Months
Payout date: June 2021
Please adjust your settings
The interest rate will result a negative return and you will not be able to place bid
Lender full filled action settings
Lender full filled action description