Full Time MBA at St. Gallen
This is me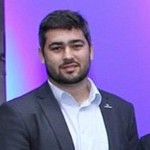 Nick name

FFuza
Age

32 years
Highest education

University of St. Gallen
---
This is my Credit Motivation
I am Brazilian with over 10 year experience in the mining industry, working at a global leading company. I currently hold a bachelor's degree in Business and post graduate specializations in project management.
In September 2018 I'll start the Full time MBA at the prestigious University of St. Gallen. My tuition fees and living expenses will be funded through my own savings. In order to cover the remaining amount, I would require this loan of CHF 25,000. Note that this loan will be paid directly to the University of St. Gallen.
Through all my professional and personal life I have to come to develop a strong relationship, a passion towards some subjects such as personal values, real leadership and global business view. I see in St. Gallen the opportunity of coming across these three subjects finding the connection of high level education and principles from the Swiss culture, the benchmark international trade business background and challenging leadership focused MBA that St. Gallen provides. Certainly a watershed moment, an experience that will add immense value to my career.
I have attached my credit score, which provides evidence that this loan will be correctly repaid.
---
This is what I need
Credit amount

CHF 25'000
Maximum interest rate

7.5%
Start date

June 2018
Study time

12 months
Re-payment starts

June 2019
Re-payment time

36 months
Loan fully paid back

May 2022
---
This is my plan
School/University

University of St. Gallen
Main field of study

Full time MBA
Additional fields of study

Full time MBA
Begin of study

September 2018
End of study

August 2019
Current semester

0
Plans after study

Upon a successful completion of the MBA I plan to obtain a position in a Swiss or European based company.

The experience in St. Gallen along with the acquired knowledge from my background will allow me to keep on learning from who excels, forging alliances and having experiences from working together with great professionals and successful companies.
Auction
Auction Closed
9 bids, CHF 25'000 of CHF 25'000 filled
Calculate your sustainable return
CHF 25'000
Investment Amount
5.0%
Interest Rate
Your return (net of fees)
-
Documents
---
---
---
---
---
---
Contact Student
You have to be registered as investor to contact students.
Place bid
You need to complete the full registration first in order to place a bid. Please click on "Register as Investor"in the navigation bar.
You have to be registered as investor to place bids.
Sorry, but you can not place bids yet!
To place bids you must be registered as investor and have an active splend!t account.
Stop your auction early?
You're there! Investors like you and placed bids for the full amount you requested in your auction. Well done! Just be aware that if you stop the auction now, you will give up our chance of receiving better offers until expiry.
You are about to place an all-in! bid!
Are you sure you want to place this all-in! bid?
Amount: CHF 25000.00
Interest: %
Period: 48 Months
Payout date: June 2018
You are about to place a bid...
Are you sure to place this bid?
Amount: CHF
Interest: %
Period: 48 Months
Payout date: June 2018
Please adjust your settings
The interest rate will result a negative return and you will not be able to place bid
Lender full filled action settings
Lender full filled action description