Funding my IMD MBA
This is me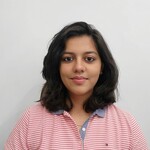 Nick name

Aishs
Age

28 years
Highest education

IMD Lausanne
---
This is my Credit Motivation
Dear Investors,
I'm Aishwarya Saxena (27), a Senior Product Manager with 5 years of experience in technology and innovation. I would like to thank you for taking the time to read my story and potentially help fund my dream of pursuing an MBA at one of the premier universities - IMD, Lausanne, ranked no. 1 globally by both Bloomberg and Forbes Magazine.
As a child, I was very inquisitive and always wanted to understand how things are built and why they work the way they do. It was this drive to learn and create that helped me excel in academics. Along with winning the best department project award for creating a Mobile App for Microloans, I graduated First Class with Distinction during my bachelor's in Industrial Engineering and Management. Learning the concepts of brainstorming and Lean methodologies cemented my love for creating products. Following my ambitions, I landed the role of an Associate Product Manager at a FinTech Startup, where I continued to strengthen my design thinking and managerial skills.
Over the next 3 years of my career, I was continually promoted and reached the ranks of a Senior Product Manager, owning the Mobile Applications Team at LeadSquared (now a startup unicorn, >US$ 1 Billion in funding). I built and scaled a team of 30 engineers & designers and reported directly to the CXO level. Here I scaled the mobile business by 45% in revenue and 30% in user base.
In parallel to academics and work, I've always found time to give back to the community. I worked with Ekjut (non-profit) focusing on maternal and adolescent healthcare with the Indigenous people of Jharkhand, India. I've supported SankalpTaru (non-profit) in building and improving their website to increase their reach and impact. Over time I found myself wanting to achieve more in the sustainability space. So, I decided to switch to Tech-Sustainability by leading the growth vertical at Goodera. Here I learnt about ESG metrics and Corporate Social Responsibility (CSR) initiatives by working with CSR leaders at MNCs (Airbnb, Zoom, etc) in the US & EU regions. I soon realized I needed to gain a deeper understanding of strategically implementing ESG principles to facilitate high-impact solutions. And, so for the next chapter of my life, I decided to pursue an MBA program that would equip me with the frameworks required to build durable sustainability solutions at a global scale.
With the Leadership and Sustainability tracks offered at IMD in conjunction with the psychoanalyst sessions, IMD was the best choice. Here I hope to hone my leadership skills and enable myself to build strategic & sustainable solutions. I was over the moon when I got the news that I received an admit to IMD with a Tech scholarship of 20,000 CHF. Even though this amount is a big boon for me, I would need your support to fund a balance of 45,000 CHF for the coming academic year. I am confident that the IMD MBA will only enhance the skills I've nourished during my work experience and I will be able to pay the loan amount well within time.
I look forward to your support. Please feel free to reach out to me on LinkedIn with any further queries you may have!
Thank you
Aishwarya Saxena
---
This is what I need
Credit amount

CHF 45'000
Maximum interest rate

6.5%
Start date

December 2022
Study time

15 months
Re-payment starts

March 2024
Re-payment time

48 months
Loan fully paid back

February 2028
---
This is my plan
School/University

IMD Lausanne
Main field of study

MBA
Additional fields of study

MBA
Begin of study

January 2023
End of study

December 2023
Current semester

0
Plans after study

Post my MBA I want to pursue a role in Sustainability Tech at one of the Fortune 500 companies (eg: Google, Airbnb) that are leading sustainability initiatives predominantly in the EU region. I will also be pursuing Senior Product Manager roles at both MNCs as well as high-growth start-ups.
Auction
Auction Closed
20 bids, CHF 45'000 of CHF 45'000 filled
Calculate your sustainable return
CHF 45'000
Investment Amount
5.0%
Interest Rate
Your return (net of fees)
-
Contact Student
You have to be registered as investor to contact students.
Place bid
You need to complete the full registration first in order to place a bid. Please click on "Register as Investor"in the navigation bar.
You have to be registered as investor to place bids.
Sorry, but you can not place bids yet!
To place bids you must be registered as investor and have an active splend!t account.
Stop your auction early?
You're there! Investors like you and placed bids for the full amount you requested in your auction. Well done! Just be aware that if you stop the auction now, you will give up our chance of receiving better offers until expiry.
You are about to place an all-in! bid!
Are you sure you want to place this all-in! bid?
Amount: CHF 45000.00
Interest: %
Period: 63 Months
Payout date: December 2022
You are about to place a bid...
Are you sure to place this bid?
Amount: CHF
Interest: %
Period: 63 Months
Payout date: December 2022
Please adjust your settings
The interest rate will result a negative return and you will not be able to place bid
Lender full filled action settings
Lender full filled action description