Genetics and Molecular Biology in Zurich
This is me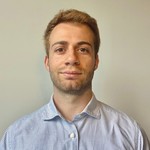 Nick name

Cri96
Age

25 years
Highest education

ETH Zurich
---
This is my Credit Motivation
My name is Cristiano Marini, and I'm an Italian MSc student in Genetics and Molecular Biology.
I decided to move to Zurich to improve my skills in Stem Cells research at UZH and ETH Universities.
After obtaining my Bachelor in Biological Science from the Sapienza University of Rome, my primary objective was to challenge myself, finding new stimuli and build my career.
In February 2021 I've been selected for an Exchange program in Zurich, funded by the University of Zurich, allowing me to study and experience the Swiss research environment.
In August 2021, after being accepted to MIT university to work on my thesis, I decided to reject it and continue my research career in Zurich, at ETH, where I'm pursuing a challenging project on Bone Marrow stem cells regulation.
I've been working since I started my Bachelor, without burdening so much on my Family, and that's what I am also doing part-time here.
Unfortunately, the amount of money required for living in Zurich is above my possibilities, and the time I spend every day in the lab doesn't allow me to work as much.
For all these reasons I'm here to ask for funding for my studies here in Zurich until I will be able to start working full-time.
---
This is what I need
Credit amount

CHF 17'000
Maximum interest rate

6%
Start date

September 2021
Study time

36 months
Re-payment starts

September 2024
Re-payment time

40 months
Loan fully paid back

December 2027
---
This is my plan
School/University

ETH Zurich
Main field of study

Genetics
Additional fields of study

Genetics
Begin of study

February 2021
End of study

August 2022
Current semester

2
Plans after study

After graduating I will have the opportunity to continue with my academic career with a PhD at the Mechanobiology Department where I'm working now at ETH University, or at the Gastroenterology Department of Sapienza University of Rome, where I worked for almost 2 years, until January 2021.

Another plan could be to start an internship or a full-time job in one of the multinational healthcare companies placed in Switzerland or in the rest of Europe with which I'm in contact, like La-Roche.

In case I will opt for a PhD, the monthly should be around 3500 CHF, just at the beginning.

On the other hand, working for a big company will allow me to earn from 2500 CHF/month for an internship, to 7000 CHF/month for a Scientist position.

In every case, my future salary will cover all the expenses and the loan received.
Auction
Auction Closed
4 bids, CHF 17'000 of CHF 17'000 filled
Calculate your sustainable return
CHF 17'000
Investment Amount
5.0%
Interest Rate
Your return (net of fees)
-
Contact Student
You have to be registered as investor to contact students.
Place bid
You need to complete the full registration first in order to place a bid. Please click on "Register as Investor"in the navigation bar.
You have to be registered as investor to place bids.
Sorry, but you can not place bids yet!
To place bids you must be registered as investor and have an active splend!t account.
Stop your auction early?
You're there! Investors like you and placed bids for the full amount you requested in your auction. Well done! Just be aware that if you stop the auction now, you will give up our chance of receiving better offers until expiry.
You are about to place an all-in! bid!
Are you sure you want to place this all-in! bid?
Amount: CHF 17000.00
Interest: %
Period: 76 Months
Payout date: September 2021
You are about to place a bid...
Are you sure to place this bid?
Amount: CHF
Interest: %
Period: 76 Months
Payout date: September 2021
Please adjust your settings
The interest rate will result a negative return and you will not be able to place bid
Lender full filled action settings
Lender full filled action description