Help funding my future career
This is me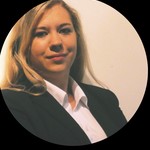 Nick name

CeliiNat
Age

26 years
Highest education

Les Roches School for Hospitality Management
What would you like to ask?

Contact Student
---
This is my Credit Motivation
My name is Celeste Natascha Fischer, 25 years old and I am currently studying at Les Roches for the Bachelor in Business Management. The school, however, delivers a focus on hospitality.
After six years working as a waitress and receptionist, I chose this study to expand my skills, to challenge myself and to bring forward my career. I am an organized, responsible, independent working person. These strengths I am constantly improving with innovative and challenging school projects. Les Roches as the top third school worldwide for hospitality education offers me also the possibility to work on my weaknesses and to convert these into new strengths, helping for my future career.
By sponsoring me, you could not only help me to be a great manager, but also to be a pioneer in hospitality as I wish to revolutionize the working conditions and hence, improve the industry's reputation and ensure the inspiration for the young people to choose this diverse and fascinating industry. After the studies, I plan to enter the event management industry and to, after few years, put my focus on teaching employers and employees how to improve the industry.
My savings are still enough for my living and personal bills such as rent and groceries, but with helping me out with my study fees I wouldn't need to rely on my parents' help and will be able to focus on my study and my grades, for which I wish for to keep them on a 90% level, as well as on building up a global network with the international student badge.
Lastly, I would be very grateful for your support, and once I completed my Bachelor, my priority will be to pay this loan as soon as possible.
---
This is what I need
Credit amount

CHF 35'000
Maximum interest rate

6.5%
Start date

May 2020
Study time

24 months
Re-payment starts

May 2022
Re-payment time

42 months
Loan fully paid back

October 2025
---
This is my plan
School/University

Les Roches School for Hospitality Management
Main field of study

Business Administration, Hospitality Management + Event Management
Additional fields of study

Business Administration, Hospitality Management + Event Management
Begin of study

September 2018
End of study

January 2022
Current semester

4
Plans after study

It is my dream to be a planner for big events, for example concerts or weddings. I would like to work on many different fields, to have a diverse work. After being successful for some years, I wish to be a pioneer for the tourism/hospitality industry and change the work conditions for this industry. From own experience, I know that there are still crucial points which need to be changed to make the work in the hospitality industry more attractive again by guaranteeing a solid work-life-balance. I would like to work together with employers and employees to improve the industry's reputation and to inspire the young people for choosing this industry.


Mein Traum ist es, grosse Events zu planen, sei es Musikveranstaltungen, Hochzeiten etc. Ich möchte auf vielen Bereichen tätig sein, nach ein paar Jahren Arbeitszeit möchte ich mich auch um die Arbeitsbedingungen in Gastronomie/ Hotellerie kümmern und diese in Zusammenarbeit mit den Arbeitern nachhaltig verändern und verbessern.
Auction
14 bids, CHF 12'500 of CHF 35'000 filled
Calculate your sustainable return
CHF 35'000
Investment Amount
5.0%
Interest Rate
Your return (net of fees)
-
Currently Valid Bids
investor
Amount
Interest
Submitted
Krypto
6%
21.05.2020 13:01
cm-p
6.5%
05.06.2020 13:55
DanCitizen
6.5%
26.05.2020 07:32
rohell
6.5%
26.05.2020 05:15
arnosmus
6.5%
25.05.2020 10:22
berryman
6.5%
24.05.2020 15:32
KB1
6.5%
23.05.2020 13:47
Hyperion
6.5%
23.05.2020 13:24
beni
6.5%
21.05.2020 13:02
Superlender
6.5%
21.05.2020 11:38
sai-buc
6.5%
20.05.2020 23:53
Arishaka
6.5%
20.05.2020 15:29
Bubble Dee
6.5%
20.05.2020 13:37
Contact Student
You have to be registered as investor to contact students.
Place bid
You need to complete the full registration first in order to place a bid. Please click on "Register as Investor"in the navigation bar.
You have to be registered as investor to place bids.
Sorry, but you can not place bids yet!
To place bids you must be registered as investor and have an active splend!t account.
Stop your auction early?
You're there! Investors like you and placed bids for the full amount you requested in your auction. Well done! Just be aware that if you stop the auction now, you will give up our chance of receiving better offers until expiry.
You are about to place an all-in! bid!
Are you sure you want to place this all-in! bid?
Amount: CHF 35000.00
Interest: %
Period: 66 Months
Payout date: May 2020
You are about to place a bid...
Are you sure to place this bid?
Amount: CHF
Interest: %
Period: 66 Months
Payout date: May 2020
Please adjust your settings
The interest rate will result a negative return and you will not be able to place bid
Lender full filled action settings
Lender full filled action description