IMD 2021 MBA candidate - need your help for tuition fees
This is me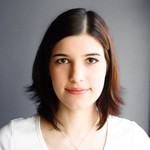 Nick name

cnyk
Age

29 years
Highest education

IMD Lausanne
---
This is my Credit Motivation
Hello,
My name is Canay. I'm a 2021 MBA Candidate at IMD Business School. I am a Turkish citizen residing in London/UK where I own a small branding company.
I have an unconventional career background with an education in architecture. I have worked in global and local branding-advertising agencies, involved in two startups which both went to US in later stages. After 5 years professional experience, I decided to have an MBA to excel my business knowledge.
I specifically chose IMD because of not only its global ranking and reputation but also the emphasis they put on the character and morality of the applicants. The fact that Switzerland is my dream country was only a cherry on cake. In IMD I aim to unlock my potential to the most, find ways to dedicate myself to a meaningful purpose and make a good impact in this world. And become an accomplished business woman. This upcoming year will be a transformative period for my career and life.
However, I need financial support to realize my dreams. The tuition fee at IMD is CHF 90k. I self-financed the first installments of CHF 30k with my savings. I received a scholarship of CHF 10k. For the rest of the tuition fees I need CHF 50k which will be directly paid to IMD.
After graduation I aim to stay in Europe. I believe that IMD would create amazing opportunities in terms of employment; my goal is to pursue a career in consultancy. Besides, IMD is globally no 1 with ROI in 5 years, also the average salary after graduate -which is €110k- is very competitive. I am confident that I would be able to pay back in less than 48 months.
I hope you would generously help me to realize my dreams, for which I will be grateful for the rest of my life. I promise to work very hard to repay and be worthy of your trust. And then I shall give back for others in need when I have the conditions as well.
For any further questions please do not hesitate to reach out to me.
Kind regards,
Canay
---
This is what I need
Credit amount

CHF 50'000
Maximum interest rate

7.5%
Start date

January 2021
Study time

15 months
Re-payment starts

April 2022
Re-payment time

48 months
Loan fully paid back

March 2026
---
This is my plan
School/University

IMD Lausanne
Main field of study

MBA
Additional fields of study

MBA
Begin of study

December 2020
End of study

December 2021
Current semester

0
Plans after study

My main post-MBA plan is to seek a job in a consultancy company.

In my past experiences I really liked working with various companies and industries, helping them with different problems each time. I value the learning opportunity it provides very much. Moreover, I see helping companies as a way of making an impact in people's lives, such as the employees, the customers and the people those companies touch.

Besides throughout my education and life I always saw myself in an analyzing and advising role. As for skillsets, I believe my experience in branding consultancy, the roles I had in close contact with C-suite executives of the clients and of the companies I worked gave me excellent communication skills. I have already worked with clients from many industries and learned to adapt to their needs. For now, consultancy seems where I would the best service.

My Plan B is to have a brand/product management role.

With my creative background, experience in branding-advertisement industry, user-oriented training, and new business skillset; this path would be a natural switch.

As per location, I am intended to stay in Europe where I always feel at home.
Auction
Auction Closed
35 bids, CHF 50'000 of CHF 50'000 filled
Calculate your sustainable return
CHF 50'000
Investment Amount
5.0%
Interest Rate
Your return (net of fees)
-
Contact Student
You have to be registered as investor to contact students.
Place bid
You need to complete the full registration first in order to place a bid. Please click on "Register as Investor"in the navigation bar.
You have to be registered as investor to place bids.
Sorry, but you can not place bids yet!
To place bids you must be registered as investor and have an active splend!t account.
Stop your auction early?
You're there! Investors like you and placed bids for the full amount you requested in your auction. Well done! Just be aware that if you stop the auction now, you will give up our chance of receiving better offers until expiry.
You are about to place an all-in! bid!
Are you sure you want to place this all-in! bid?
Amount: CHF 50000.00
Interest: %
Period: 63 Months
Payout date: January 2021
You are about to place a bid...
Are you sure to place this bid?
Amount: CHF
Interest: %
Period: 63 Months
Payout date: January 2021
Please adjust your settings
The interest rate will result a negative return and you will not be able to place bid
Lender full filled action settings
Lender full filled action description