IMD MBA Student seeking Loan
This is me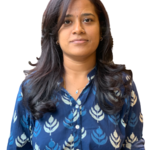 Nick name

imdmba2021
Age

32 years
Highest education

IMD Lausanne
What would you like to ask?

Contact Student
---
This is my Credit Motivation
My name is Shruthi Arul, an Indian living currently in Lausanne. I have 9 years of experience with IBM India Pvt Ltd with a strong technical background and I also have a family business experience based in Dubai.
The total tuition fee for 2021 IMD MBA is 90000 CHF + approx 36000 for living expenses. I have received a scholarship of 10000 from IMD and I have already paid 30000 CHF from my personal savings. I need loan to cover the remaining tuition fee of 50000 and rent, food etc.
I have been maintaining an impecabble credit record back in India for more than 10 years and have never failed to pay my bills on time, I assure that I shall maintain the same while repaying my loans and will try to close it earlier than the time I have requested.
Also, the average salary post graduation is ~122k with a possible sign-on bonus of about 25k$ which will make it possible for me to close my loans.

Feel free to reach out to me for any questions.
---
This is what I need
Credit amount

CHF 70'000
Maximum interest rate

8%
Start date

February 2021
Re-payment starts

March 2021
Re-payment time

48 months
Loan fully paid back

February 2025
---
This is my plan
School/University

IMD Lausanne
Main field of study

MBA
Additional fields of study

MBA
Begin of study

December 2020
End of study

December 2021
Current semester

2
Plans after study

Plan A: Product Management roles in companies such as Amazon, where I shall be a great fit given my technical experience.

Plan B: IMD has a strong network in the Middle East, and I can leverage the contacts of my family business as well to find a suitable role in UAE. I am a UAE Resident so that will give me a good chance for getting placed in UAE

Plan C: In the worst case scenario that both of the above does not work, I have the support of my spouse and also some assets in India that I can sell to repay the loan.
Auction
21 bids, CHF 33'500 of CHF 70'000 filled
Calculate your sustainable return
CHF 70'000
Investment Amount
6.0%
Interest Rate
Your return (net of fees)
-
Currently Valid Bids
investor
Amount
Interest
Submitted
kaydee
6%
09.02.2021 07:48
HelpingHand
7.5%
10.02.2021 08:51
HelpingHand
7.5%
09.02.2021 18:24
Krypto
7.5%
03.02.2021 23:31
Perikles
8%
05.03.2021 11:18
mastaed
8%
22.02.2021 12:20
hugo23
8%
15.02.2021 10:54
Wacker1913
8%
12.02.2021 01:57
philantrofinancier
8%
10.02.2021 14:23
rohell
8%
09.02.2021 21:08
turkish82
8%
08.02.2021 12:59
RDS74
8%
01.02.2021 15:26
Arishaka
8%
28.01.2021 16:48
LenderLender
8%
25.01.2021 17:08
berryman
8%
25.01.2021 15:51
dehaeigen
8%
24.01.2021 09:44
Celella
8%
23.01.2021 11:00
Opossum
8%
22.01.2021 22:21
Contact Student
You have to be registered as investor to contact students.
Place bid
You need to complete the full registration first in order to place a bid. Please click on "Register as Investor"in the navigation bar.
You have to be registered as investor to place bids.
Sorry, but you can not place bids yet!
To place bids you must be registered as investor and have an active splend!t account.
Stop your auction early?
You're there! Investors like you and placed bids for the full amount you requested in your auction. Well done! Just be aware that if you stop the auction now, you will give up our chance of receiving better offers until expiry.
You are about to place an all-in! bid!
Are you sure you want to place this all-in! bid?
Amount: CHF 70000.00
Interest: %
Period: 48 Months
Payout date: February 2021
You are about to place a bid...
Are you sure to place this bid?
Amount: CHF
Interest: %
Period: 48 Months
Payout date: February 2021
Please adjust your settings
The interest rate will result a negative return and you will not be able to place bid
Lender full filled action settings
Lender full filled action description