IMD MBAer - Invest in Me!
This is me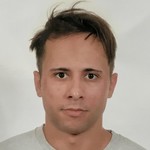 Nick name

mariosknt
Age

29 years
Highest education

IMD Lausanne
---
This is my Credit Motivation
I am a first-generation university student who graduated top of my class from a very competitive engineering school in Greece. I believe that my experiences and accomplishments have helped me create a broad skillset that allows me to tackle different problems, withstand pressure and deliver results; all these while having worked on numerous group projects and knowing how to work well with others in order to achieve the optimal results. My personal path has also made me understand the importance of business and finance in life. This way, I have concluded that diving deeper into the world of business is a step in the right direction at the right time.
This strong motivation combined with a lot of hard work has led me to get accepted at IMD which is considered the #1 MBA program in Europe with the best ROI due to the highest average salary five years after graduation.
So why I ask for this help from Splendit? Ready to start this life changing experience at IMD, I would like to ask now the CHF 60,000 for my living expenses and rest of the tuition fees in order to laser-focus on the program.
My personal path while exciting (read the Personal Statement), it didn't enable me to save money to self-fund the MBA. In parallel, it was not possible for me to get funded by my previous employer, the Hellenic Navy, even if this happens often with MBAers. Furthermore, even though I have managed to secure funds through family, friends, scholarships and have raised CHF 15,000 through Splendit for the 2nd instalment of the program, the asked amount is still needed.
Through this lens I ask from potential investors to assist me on this journey. I don't let down people who believe in me and I will continue working hard in order to fulfill my short-term and long-term goals.
I have no dependents, very few expanses, post-MBA I will be focused solely on aggressively paying back my loan eyeing a time frame less than 48 months, I will continue pursuing available scholarships in order to use less money than borrowed and I will bring you a good return on investment at this period and time. To ensure your investment is secured I will mention that the IMD average graduation salary is ~$122k/year, with a $28k sign-on bonus and IMD has shown to be the number 1 school globally in terms of ROI after 5 years.
Please check my profile and the documents I have uploaded. I am confident that you will be able to understand my story, motivation and who I am.
*Feel free to ask any questions.*
---
This is what I need
Credit amount

CHF 60'000
Maximum interest rate

7%
Start date

December 2020
Study time

15 months
Re-payment starts

March 2022
Re-payment time

48 months
Loan fully paid back

February 2026
---
This is my plan
School/University

IMD Lausanne
Main field of study

MBA
Additional fields of study

MBA
Begin of study

December 2020
End of study

December 2021
Current semester

12
Plans after study

Upon graduation, my short to medium-term objective, is to secure an analyst role in a top-tier consulting firm such as McKinsey, BCG or Bain. I am choosing this path because I enjoy the intellectually stimulating process of scrutinising business. My passion for business analysis and technology, combined with the IMD MBA and the lessons taught through my diverse past experiences will put me in a position to provide a unique perspective in this competitive field.

As a plan-B, I will pursue joining a newly incorporated company or a small arm of a bigger company in a strategy role as product owner. I have a network in place for such position but I will also look through regular job hunting.

On the longer term, I see myself fulfilling my entreprenurial aspirations. I will use my knowledge, network and past experiences in order to have an impact; either as an early-stage VC or by building my own company.
Auction
Auction Closed
33 bids, CHF 60'000 of CHF 60'000 filled
Calculate your sustainable return
CHF 60'000
Investment Amount
5.0%
Interest Rate
Your return (net of fees)
-
Documents
---
---
---
---
---
---
---
---
Contact Student
You have to be registered as investor to contact students.
Place bid
You need to complete the full registration first in order to place a bid. Please click on "Register as Investor"in the navigation bar.
You have to be registered as investor to place bids.
Sorry, but you can not place bids yet!
To place bids you must be registered as investor and have an active splend!t account.
Stop your auction early?
You're there! Investors like you and placed bids for the full amount you requested in your auction. Well done! Just be aware that if you stop the auction now, you will give up our chance of receiving better offers until expiry.
You are about to place an all-in! bid!
Are you sure you want to place this all-in! bid?
Amount: CHF 60000.00
Interest: %
Period: 63 Months
Payout date: December 2020
You are about to place a bid...
Are you sure to place this bid?
Amount: CHF
Interest: %
Period: 63 Months
Payout date: December 2020
Please adjust your settings
The interest rate will result a negative return and you will not be able to place bid
Lender full filled action settings
Lender full filled action description