Invest in a Future Professional of Peace and Security
This is me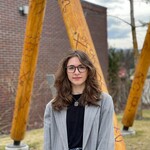 Nick name

Zoy2000
Age

23 years
Highest education

Geneva Graduate Institute
---
This is my Credit Motivation
Dear Splendit Investors,
My name is Zoia Suleiman, and I am pursuing a Master's degree in International and Development Studies at the Geneva Graduate Institute. Growing up in Syria, I was extremely hopeful about the revolution in 2011, which, I thought, would bring my people the prosperity and justice any human being deserves. However, when my family and I were stopped in our own town by the non-governmental armed group forcing us to leave our house and flee the area for our safety, I realized that prosperity was not going to be the next chapter for my country. Moving to Russia, an all-consuming frustration overwhelmed me as I witnessed my country's destruction and the Syrians' humanitarian situation deteriorating from a distance. Such grievance fuelled my passion for becoming fluent in Russian, persevering in my studies, and mobilizing my personal growth to fight for justice, accountability, and the livelihood of the Syrian people. Thus, through relentless work, I pursued a fully-funded education at the United World Colleges in Armenia and the University of British Columbia.
Through my academic journey, I determined that the most meaningful and impactful way to curb violence and achieve sustainable peace in protracted conflict settings was to create links between resourceful international organizations and local groups with on-ground expertise. Therefore, I applied for the International and Development Studies Master at IHEID as every single aspect of the program prepares, facilitates, and enables me to find my place in those international organizations. I was delighted to be admitted to the program with a specialization in Peace, Conflict, and Security, which provides comprehensive theoretical and practical manifestations of conflict and the conditions of peace necessary to dissect the complex Syrian context. As part of the specialization, I have to conduct an Applied Research Project, working with one of the 30 international organizations and 250 NGOs surrounding the institute. In addition, this program offers the opportunity to undertake an internship as part of the degree, which is ideal for me to gain the professional and practical experience I need to succeed in my post-graduation career. Although I was admitted to IHEID's two-year Master's program, I lacked the financial means to attend due to my father's sudden death in April 2021 and the current economic crisis. Being determined to pursue my studies, I launched a gofundme campaign that yielded enough for me to cover my first semester expenses. I also was fortunate to meet a generous sponsor that agreed to cover my tuition fees. However, although I am working next to my studies, I need a loan to support my living expenses until I graduate. My life journey has made me remarkably resilient and independent at a very young age. Therefore, I am confident that I will succeed in my career and be able to repay the loan before or on the indicated deadline.
Further information about my qualifications, experience, and ambitions can be found on my LinkedIn.
---
This is what I need
Credit amount

CHF 12'500
Maximum interest rate

6%
Start date

March 2023
Study time

22 months
Re-payment starts

January 2025
Re-payment time

36 months
Loan fully paid back

December 2027
---
This is my plan
School/University

Geneva Graduate Institute
Main field of study

International and Development Studies — Specialization in Conflict, Peace, and Security
Additional fields of study

International and Development Studies — Specialization in Conflict, Peace, and Security
Begin of study

September 2022
End of study

September 2024
Current semester

2
Plans after study

Being fluent in Arabic, Russian, English, and soon, French, I am confident that I will land a paid traineeship/ internship in International Geneva during my final semester. After graduation, I plan on either turning this position into a full-time job or finding another position in an International Organization or an NGO. During my fundraising campaign, I have contacted many professionals in the sector, who were more than happy to provide professional advice and recommendations that will support my success in this plan.

My dream job would be working to curb violent conflict through peaceful localized mechanisms with a particular focus on women's role within this process. There are multiple intergovernmental and non-governmental organizations based in Geneva that I can work at to pursue this personal ambition: Nonviolent Peaceforce, Interpeace, and UN Women, to name a few.
Auction
Auction Closed
15 bids, CHF 12'500 of CHF 12'500 filled
Calculate your sustainable return
CHF 12'500
Investment Amount
5.0%
Interest Rate
Your return (net of fees)
-
Contact Student
You have to be registered as investor to contact students.
Place bid
You need to complete the full registration first in order to place a bid. Please click on "Register as Investor"in the navigation bar.
You have to be registered as investor to place bids.
Sorry, but you can not place bids yet!
To place bids you must be registered as investor and have an active splend!t account.
Stop your auction early?
You're there! Investors like you and placed bids for the full amount you requested in your auction. Well done! Just be aware that if you stop the auction now, you will give up our chance of receiving better offers until expiry.
You are about to place an all-in! bid!
Are you sure you want to place this all-in! bid?
Amount: CHF 12500.00
Interest: %
Period: 58 Months
Payout date: March 2023
You are about to place a bid...
Are you sure to place this bid?
Amount: CHF
Interest: %
Period: 58 Months
Payout date: March 2023
Please adjust your settings
The interest rate will result a negative return and you will not be able to place bid
Lender full filled action settings
Lender full filled action description