MA Innovation at University of Neuchatel
This is me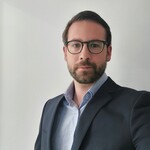 Nick name

UnineMA2022
Age

31 years
Highest education

University of Neuchatel
---
This is my Credit Motivation
I am currently enrolled as a MA Innovation student at Unine (University of Neuchatel) to perfect my academic and profesional level of French, which currently is at C1 level, but I aim towards C2 level, and also to become a better Product Manager, which is my current formal education, with a MIM/junior MBA from ESCP Europe, and 1 year experience as a business analyst/management consultant at Everis, NTT data.
My current revenue is 1200 euros a month from a SU-stipend from the Ministry of Education in Denmark, which I can recieve until november 2022, from then on, I need to either find employment or this credit to finance further studies, in case I do not find a job before 1st of october 2022, which I hope and believe I will, either in Geneva, or Paris, please read (Plans after study) for further explanations.
---
This is what I need
Credit amount

CHF 20'000
Maximum interest rate

6.5%
Start date

April 2022
Study time

24 months
Re-payment starts

April 2024
Re-payment time

48 months
Loan fully paid back

March 2028
---
This is my plan
School/University

University of Neuchatel
Main field of study

MA Innovation
Additional fields of study

MA Innovation
Begin of study

March 2021
End of study

March 2023
Current semester

1
Plans after study

I hope to find a temporary contract (CDD) or permanent (CDI) in the French speaking part of Switzerland (Geneva or Lausanne) as a Product/Project Manager, IT Management Consultant, Business Analyst in either of the domains where I have prior work experience: Telecom, Energy/Utility, Biotech and Digital Banking/FinTech.

I think it is realistic for me to find a job, when I have finished perfecting my current French level, doing my current semester at the MA innovation at Unine, and improving my business analytics skills by following python, sql and machine learning courses on datacamp and linkedinlearning, before 1st of october 2022.

According to glassdoor, starting salary of a graduate with a MIM in a junior 0-3 year experience positon in Geneva pays on average 90-100k euros annually.
Auction
Auction Closed
13 bids, CHF 20'000 of CHF 20'000 filled
Calculate your sustainable return
CHF 20'000
Investment Amount
5.0%
Interest Rate
Your return (net of fees)
-
Documents
---
---


20220310_150336.jpg
unine student card
---
Contact Student
You have to be registered as investor to contact students.
Place bid
You need to complete the full registration first in order to place a bid. Please click on "Register as Investor"in the navigation bar.
You have to be registered as investor to place bids.
Sorry, but you can not place bids yet!
To place bids you must be registered as investor and have an active splend!t account.
Stop your auction early?
You're there! Investors like you and placed bids for the full amount you requested in your auction. Well done! Just be aware that if you stop the auction now, you will give up our chance of receiving better offers until expiry.
You are about to place an all-in! bid!
Are you sure you want to place this all-in! bid?
Amount: CHF 20000.00
Interest: %
Period: 72 Months
Payout date: April 2022
You are about to place a bid...
Are you sure to place this bid?
Amount: CHF
Interest: %
Period: 72 Months
Payout date: April 2022
Please adjust your settings
The interest rate will result a negative return and you will not be able to place bid
Lender full filled action settings
Lender full filled action description