Make the World better place together - backed by Solidarbürge
This is me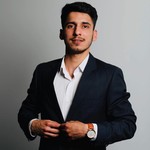 Nick name

ard710
Age

27 years
Highest education

Fachhochschule Nordwestschweiz
What would you like to ask?

Contact Student
---
This is my Credit Motivation
Hello Everyone, this is Ali here. I am from Pakistan and have been living in Switzerland for 3 years.
First of all, I would like to thank all of you for providing facilities and your help to students in need for them to complete their studies without financial worries. I really appreciate that and I hope in the future I will be able to do that too!
I am a master's student in Business Information Systems at Fachhochschule Nordwestschweiz (FHNW). I have more than 5 years of international work experience from Islamabad, to Dubai, and now in Zurich for the last 3 years.
My master's studies are in total 1.5 years and I already have done 1st semester with Swiss Grade 5.3 out of 6.0. I have almost 1 more year to finish my studies. My fee for this course is a total of CHF 24'000/- (CHF 8'000/- per semester) and my living expenses are almost CHF 2'000/- per month. Even though I am in the 2nd semester, but I have to pay this whole CHF 24'000/- in order to complete my degree because I was not able to pay the first-semester fee.
I was working as a Digital Marketing Manager in Zurich before starting my master's. Now I want to continue my master's studies without working. The reason I do not want to work is that I plan to finish my studies until July 2021 and I think if I work while studying, it will either take me long to finish my master's degree or it will affect my grades.
I always wanted to do something good for the world. As my current plans are to make an online platform where people who can not afford to learn sports in Switzerland would be able to learn from the volunteers and I am going to do my master's thesis on it. In the long run, I want to build a charity group that will provide food and education to the people in this world who do not have access to it. I also have made some platforms to help the vulnerable people towards COVID-19 in Switzerland and I am planning to do the same in the future.
This amount will help me to achieve those objectives with your help and will allow me to do something good for the world.
I thank you again for reading my application and I hope you will understand the situation. Please feel free to reach me in-case of any questions.

Splendit Admin: Ali's loan will be backed by a Swiss "Solidarbürge" whose credit profile we have verified in CRIF (grün)
---
This is what I need
Credit amount

CHF 46'000
Maximum interest rate

7.5%
Start date

February 2021
Study time

9 months
Re-payment starts

November 2021
Re-payment time

48 months
Loan fully paid back

October 2025
---
This is my plan
School/University

Fachhochschule Nordwestschweiz
Main field of study

Business and IT
Additional fields of study

Business and IT
Begin of study

February 2020
End of study

September 2021
Current semester

2
Plans after study

My long-term objective is to contribute something good for the world which will stay and benefit the people forever. After finishing my studies, I will start working full time in Switzerland and also my master's thesis which is a new business, I would focus on that in parallel. I already had a job offer from a very well known company in Switzerland with an annual salary of CHF 82'000 (attached letter), but I decided to start that job after finishing my studies.
Once I return this loan amount of CHF 46'000/- and save some money for the future, I will start working on my charity group plan. I want to increase awareness and become a force in our community to inspire people to do good for the world which will stay here forever, even when we will be gone.
Auction
5 bids, CHF 5'000 of CHF 46'000 filled
Calculate your sustainable return
CHF 46'000
Investment Amount
5.0%
Interest Rate
Your return (net of fees)
-
Currently Valid Bids
investor
Amount
Interest
Submitted
Krypto
7%
24.02.2021 08:56
Manusch
7%
22.02.2021 16:45
dehaeigen
7.5%
16.02.2021 08:59
Arishaka
7.5%
16.02.2021 04:44
Dr. Greenthumb
7.5%
15.02.2021 14:57
Documents
---
---
---
---
---
---
---
Contact Student
You have to be registered as investor to contact students.
Place bid
You need to complete the full registration first in order to place a bid. Please click on "Register as Investor"in the navigation bar.
You have to be registered as investor to place bids.
Sorry, but you can not place bids yet!
To place bids you must be registered as investor and have an active splend!t account.
Stop your auction early?
You're there! Investors like you and placed bids for the full amount you requested in your auction. Well done! Just be aware that if you stop the auction now, you will give up our chance of receiving better offers until expiry.
You are about to place an all-in! bid!
Are you sure you want to place this all-in! bid?
Amount: CHF 46000.00
Interest: %
Period: 57 Months
Payout date: February 2021
You are about to place a bid...
Are you sure to place this bid?
Amount: CHF
Interest: %
Period: 57 Months
Payout date: February 2021
Please adjust your settings
The interest rate will result a negative return and you will not be able to place bid
Lender full filled action settings
Lender full filled action description