MBA at HSG to be a responsible global professional
This is me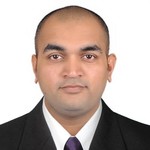 Nick name

HAB
Age

31 years
Highest education

University of St. Gallen
---
This is my Credit Motivation
One of the best industry practices and technology in my industry space finds its origin in Switzerland and Europe at large. This has been my major motivation to pursue an MBA in Switzerland. After completing my Bachelor of Engineering in Polymer discipline, I have worked for nine years in polymer industry in marketing and business development. My work exposure enabled me to learn about commercial aspects of business whereas technical background helped expand my reach into the market.
With all the financial help from friends, family, loans and personal savings, I am able to fund little over 75% of total expenses which includes tuition fees and daily expenses.
I seek funding of CHF 23,000 through Splendit to cover remaining 25% of total cost. If granted, amount will be directly credited to universities account.
Repayment Plan
I have an ongoing employee provident fund which will cover more than 50% of the loan amount during amortization period, proof of funds is attached. I will be able to liquidate provident fund only after proving sufficient time of break from current job. I will be using this amount to pay back major part of the loan during amortization period. After getting back into job market and with provident fund, I plan to pay back the loan amount as early as possible.
To be regular with interest payments, I have put aside sufficient savings so that I will never miss the deadline. My credit score is also very good, report as attached and I have never delayed any payment till date due to detailed finance planning.
---
This is what I need
Credit amount

CHF 23'000
Maximum interest rate

6.5%
Start date

April 2018
Study time

24 months
Re-payment starts

April 2020
Re-payment time

24 months
Loan fully paid back

March 2022
---
This is my plan
School/University

University of St. Gallen
Main field of study

Full Time MBA
Additional fields of study

Full Time MBA
Begin of study

September 2018
End of study

August 2019
Current semester

0
Plans after study

I have worked in the polymer industry as a Strategic Business Unit Head and Marketing Leader. I have attached my CV for detailed insight into my career progression.

Post-MBA, I plan to work as a project head of Polymer or Chemical Company in Europe. I plan to apply skills learnt during my MBA and utilize my past work experience to progress towards more global role. I will be using my industry experience, strong network and skillsets acquired during MBA to overcome challenges and help companies set up sustainable projects in emerging markets
Auction
Auction Closed
13 bids, CHF 23'000 of CHF 23'000 filled
Calculate your sustainable return
CHF 23'000
Investment Amount
5.0%
Interest Rate
Your return (net of fees)
-
Contact Student
You have to be registered as investor to contact students.
Place bid
You need to complete the full registration first in order to place a bid. Please click on "Register as Investor"in the navigation bar.
You have to be registered as investor to place bids.
Sorry, but you can not place bids yet!
To place bids you must be registered as investor and have an active splend!t account.
Stop your auction early?
You're there! Investors like you and placed bids for the full amount you requested in your auction. Well done! Just be aware that if you stop the auction now, you will give up our chance of receiving better offers until expiry.
You are about to place an all-in! bid!
Are you sure you want to place this all-in! bid?
Amount: CHF 23000.00
Interest: %
Period: 48 Months
Payout date: April 2018
You are about to place a bid...
Are you sure to place this bid?
Amount: CHF
Interest: %
Period: 48 Months
Payout date: April 2018
Please adjust your settings
The interest rate will result a negative return and you will not be able to place bid
Lender full filled action settings
Lender full filled action description