MSc Business Information Systems FHNW - backed by Solidarbürge
This is me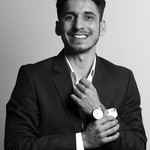 Nick name

ardrr
Age

28 years
Highest education

Fachhochschule Nordwestschweiz
What would you like to ask?

Contact Student
---
This is my Credit Motivation
Hallo zusammen, ich bin Ali.
Ich bin im letzten Semester des Masterstudiengangs Business Information Systems an der Fachhochschule Nordwestschweiz (FHNW) und werde mein Studium voraussichtlich in diesem Sommer beenden. Mein Master dauert insgesamt 1 ½ Jahre (3 Semester) und ich habe davon bereits 1 Jahr mit einem Notendurchschnitt von 4.9/6 absolviert.
Meine Studiengebühr beträgt total CHF 24'000 (CHF 8'000 pro Semester) und meine Lebenshaltungskosten sind ca. CHF 2'000 pro Monat. Auch wenn ich bereits im letzten Semester bin, muss ich den gesamten Betrag von CHF 24'000 bezahlt haben um mein Studium abschließen zu können. Ich war bis jetzt jedoch nicht in der Lage, die Erstsemestergebühr zu bezahlen.
Bevor ich den Master in der Schweiz begonnen habe, arbeitete ich mehrere Jahre in Islamabad und Dubai. Die letzten 3 Jahre war ich als Digital Marketing Manager in Zürich tätig.
Schon immer wollte ich etwas Gutes zur Welt beitragen. Meine aktuellen Pläne diesbezüglich beinhalten eine Online-Plattform zu schaffen, mit der Menschen die es sich nicht leisten können eine Sportart zu erlernen, dies mit Hilfe von Volunteer-Instruktoren tun können. Dieses Projekt ist auch gleichzeitig meine Masterarbeit, an der ich momentan arbeite und danach weiter betreuen und ausbauen möchte. Langfristig möchte ich ausserdem eine Charity-Gruppe aufbauen, um Menschen die keinen Zugang dazu haben, Nahrung und Bildung zu bieten. Ich habe auch bereits einige Plattformen erstellt um den COVID-19 –Risikogruppen in der Schweiz zu helfen und ich plane dasselbe auch in Zukunft zu tun.
Dieser Darlehnsbetrag wird mir dabei helfen die genannten Ziele mit Ihrer Unterstützung zu erreichen und damit auch etwas Gutes zu tun.
Ich danke Ihnen für das Durchlesen meiner Bewerbung und hoffe, dass Sie meine Situation verstehen können. Bei Fragen zögern Sie bitte nicht mich zu kontaktieren.
Splendit Admin: Alis Darlehen wird von einem Schweizer Solidarbürgen unterstützt, dessen Kreditprofil wir in CRIF überprüft haben. (grün)
---
This is what I need
Credit amount

CHF 32'000
Maximum interest rate

7%
Start date

May 2021
Study time

6 months
Re-payment starts

November 2021
Re-payment time

36 months
Loan fully paid back

October 2024
---
This is my plan
School/University

Fachhochschule Nordwestschweiz
Main field of study

Business & IT
Additional fields of study

Business & IT
Begin of study

February 2020
End of study

August 2021
Current semester

3
Plans after study

Nach Abschluss meines Studiums werde ich Vollzeit in der Schweiz arbeiten. Ich habe bereits ein Stellenangebot von einem Unternehmen mit einem Jahresgehalt von CHF 82'000 (siehe angehängter Brief). Parallel dazu werde ich mich auf mein in der Masterarbeit begonnenes Sport-Projekt konzentrieren.

Sobald ich den Darlehensbetrag von CHF 32'000 (3 semester x CHF 8'000 + 4 monat x CHF 2'000 = 32'000) zurückbezahlt und etwas Geld für die Zukunft angespart habe, plane ich mit der Arbeit an meiner Charity-Gruppe zu beginnen.
Auction
23 bids, CHF 32'000 of CHF 32'000 filled
Calculate your sustainable return
CHF 32'000
Investment Amount
5.0%
Interest Rate
Your return (net of fees)
-
Currently Valid Bids
investor
Amount
Interest
Submitted
rohell
6.5%
13.06.2021 15:13
hugo23
6.5%
13.06.2021 11:47
jan33
6.5%
12.06.2021 15:11
Celella
6.5%
11.06.2021 10:12
schulfer
6.5%
11.06.2021 10:05
Februar56
6.5%
10.06.2021 18:17
Manusch
6.5%
05.06.2021 12:18
Staufel
6.5%
03.06.2021 11:49
Krypto
6.5%
02.06.2021 23:08
mastaed
7%
12.06.2021 14:09
schulfer
7%
05.06.2021 00:23
Celella
7%
02.06.2021 13:51
Opossum
7%
02.06.2021 09:41
Arishaka
7%
01.06.2021 09:42
dehaeigen
7%
01.06.2021 07:49
mastaed
7%
31.05.2021 15:03
Currently Dropped Bids
investor
Amount
Interest
Submitted
hugo23
7%
12.06.2021 14:25
mastaed
7%
12.06.2021 14:09
Documents
---
---
---
---
---
---
---
Contact Student
You have to be registered as investor to contact students.
Place bid
You need to complete the full registration first in order to place a bid. Please click on "Register as Investor"in the navigation bar.
You have to be registered as investor to place bids.
Sorry, but you can not place bids yet!
To place bids you must be registered as investor and have an active splend!t account.
Stop your auction early?
You're there! Investors like you and placed bids for the full amount you requested in your auction. Well done! Just be aware that if you stop the auction now, you will give up our chance of receiving better offers until expiry.
You are about to place an all-in! bid!
Are you sure you want to place this all-in! bid?
Amount: CHF 32000.00
Interest: %
Period: 42 Months
Payout date: May 2021
You are about to place a bid...
Are you sure to place this bid?
Amount: CHF
Interest: %
Period: 42 Months
Payout date: May 2021
Please adjust your settings
The interest rate will result a negative return and you will not be able to place bid
Lender full filled action settings
Lender full filled action description