My Credit Request - 28.05.2021
This is me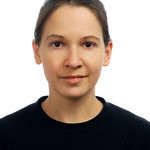 Nick name

Student MBA Sustainability
Age

33 years
Highest education

Sustainability Management School, Gland
What would you like to ask?

Contact Student
---
This is my Credit Motivation
Hello!
My name is Iarina Iartseva. I am from Russia, and I will begin the MBA in Sustainability Management at SUMAS Sustainability Management School in Gland, Switzerland in September 2021.
Since 2017 I have been a co-founder and an operational manager of a small company specializing in sustainable tourism and construction of eco-hotels and private eco-houses in the Amazonian rainforest. My passion is sustainability, and my major life goal is the development of sustainable business. I want to make the maximum contribution to humanity's transition to sustainability to save the nature of our planet, and this program will let me acquire the skills and knowledge needed for this. I chose SUMAS because it is the only business school in the world, fully specializing in sustainability.
The tuition fee is 39200 CHF, and I have already paid 9800 CHF. I need a loan of 30000 CHF to cover the remaining fee. I will pay the living expenses during the studies from my savings.
---
This is what I need
Credit amount

CHF 30'000
Maximum interest rate

6%
Start date

June 2021
Study time

15 months
Re-payment starts

September 2022
Re-payment time

24 months
Loan fully paid back

August 2024
---
This is my plan
School/University

Sustainability Management School, Gland
Main field of study

MBA in Sustainability Management
Additional fields of study

MBA in Sustainability Management
Begin of study

September 2020
End of study

September 2022
Current semester

0
Plans after study

My general plan after the MBA graduation is to take the position of sustainable manager in a large European company, and after 2-3 years, when I will have enough experience, I will move to South America to develop an eco-friendly business there. At the present, the business methods in South America are far from sustainable, and I intend to be one of the people, who will lead the environmental progress there.

The average salary of a sustainability manager in Switzerland is 108000 CHF yearly. I also have a passive income of about 1000 CHF monthly from my assets. I will pay the interest during my studies from the income, and the main part of the loan from my salary. In case of the worst scenario, I can sell my assets to cover the loan.
Auction
8 bids, CHF 8'000 of CHF 30'000 filled
Calculate your sustainable return
CHF 30'000
Investment Amount
5.0%
Interest Rate
Your return (net of fees)
-
Currently Valid Bids
investor
Amount
Interest
Submitted
rohell
6%
13.06.2021 15:15
jan33
6%
12.06.2021 15:13
schulfer
6%
11.06.2021 10:08
Opossum
6%
10.06.2021 16:39
Arishaka
6%
10.06.2021 10:34
Krypto
6%
09.06.2021 16:23
Contact Student
You have to be registered as investor to contact students.
Place bid
You need to complete the full registration first in order to place a bid. Please click on "Register as Investor"in the navigation bar.
You have to be registered as investor to place bids.
Sorry, but you can not place bids yet!
To place bids you must be registered as investor and have an active splend!t account.
Stop your auction early?
You're there! Investors like you and placed bids for the full amount you requested in your auction. Well done! Just be aware that if you stop the auction now, you will give up our chance of receiving better offers until expiry.
You are about to place an all-in! bid!
Are you sure you want to place this all-in! bid?
Amount: CHF 30000.00
Interest: %
Period: 39 Months
Payout date: June 2021
You are about to place a bid...
Are you sure to place this bid?
Amount: CHF
Interest: %
Period: 39 Months
Payout date: June 2021
Please adjust your settings
The interest rate will result a negative return and you will not be able to place bid
Lender full filled action settings
Lender full filled action description