Reaching Life Goals - IMD MBA
This is me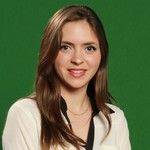 Nick name

NatEli
Age

27 years
Highest education

IMD Lausanne
---
This is my Credit Motivation
My name is Natalia Elizondo. I am a 26-year-old Mexican with an International Business Bachelors degree from Tecnológico de Monterrey. Professionally developed as a marketer, brand manager and entrepreneur, I am currently a full-time brand leader at Heineken Mexico. On the side, I have founded my startup: Muno.
Two years ago, I found a letter written by 15-year-old me to 25-year-old me. I clearly pictured myself studying an international MBA. I realized my dream started back them. That moment, I made a pause and planned my journey: Starting with the end, and building the way.
Happy to share that I have now been accepted and enrolled at IMD in Lausanne starting Class January 2020.
I have been awarded the Emerging Market Scholarship from IMD and have received other scholarships from the Mexican government. However, I still need to pay CHF 15,000 before I start the program.
The splendit student loan will be paid out directly to IMD Lausanne.
---
This is what I need
Credit amount

CHF 15'000
Maximum interest rate

6%
Start date

September 2019
Study time

18 months
Re-payment starts

March 2021
Re-payment time

42 months
Loan fully paid back

August 2024
---
This is my plan
School/University

IMD Lausanne
Main field of study

MBA
Additional fields of study

MBA
Begin of study

January 2020
End of study

December 2020
Current semester

0
Plans after study

After completing my MBA, I plan to join a global FMCG where I can continue to develop my business skills. I would like to work within the commercial or marketing department.

On the medium term, my vision is to contribute to a better Mexico through my start-up. Muno, a sharing economy platform, will connect families in a fast-paced digital world, while fostering sustainability.
Auction
Auction Closed
15 bids, CHF 15'000 of CHF 15'000 filled
Calculate your sustainable return
CHF 15'000
Investment Amount
5.0%
Interest Rate
Your return (net of fees)
-
Contact Student
You have to be registered as investor to contact students.
Place bid
You need to complete the full registration first in order to place a bid. Please click on "Register as Investor"in the navigation bar.
You have to be registered as investor to place bids.
Sorry, but you can not place bids yet!
To place bids you must be registered as investor and have an active splend!t account.
Stop your auction early?
You're there! Investors like you and placed bids for the full amount you requested in your auction. Well done! Just be aware that if you stop the auction now, you will give up our chance of receiving better offers until expiry.
You are about to place an all-in! bid!
Are you sure you want to place this all-in! bid?
Amount: CHF 15000.00
Interest: %
Period: 60 Months
Payout date: September 2019
You are about to place a bid...
Are you sure to place this bid?
Amount: CHF
Interest: %
Period: 60 Months
Payout date: September 2019
Please adjust your settings
The interest rate will result a negative return and you will not be able to place bid
Lender full filled action settings
Lender full filled action description