UZH Informatics Student Seeking Loan
This is me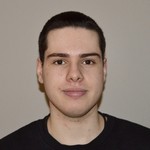 Nick name

GDoch
Age

21 years
Highest education

University Zurich
What would you like to ask?

Contact Student
---
This is my Credit Motivation
Hi,
My name is Grigor Dochev and I'm a final year university student at the University of Liverpool, UK. I will be taking a Master's program in Informatics at the University of Zurich to progress to the next level in my career and move towards a professional environment.
The tuition fee of the MSc Informatics programme is about 2,500 CHF for the 3 semesters it will take me to complete the course. Additionally, the cost of living is roughly 27,000 CHF for the duration of the course; this includes rent, course materials, food, health insurance and transportation. This loan will help me cover my living costs and tuition fees. I also work as an online private tutor and a self-employed app developer, which I plan to continue throughout my Master's program, so I will be able to pay back part of the loan with this source of income.
Feel free to contact me if you have any questions about my application.
Thank you for your support,
Grigor
---
This is what I need
Credit amount

CHF 30'000
Maximum interest rate

6%
Start date

May 2021
Study time

24 months
Re-payment starts

May 2023
Re-payment time

48 months
Loan fully paid back

April 2027
---
This is my plan
School/University

University Zurich
Main field of study

Informatics
Additional fields of study

Informatics
Begin of study

September 2020
End of study

July 2023
Current semester

0
Plans after study

After graduating, I will seek employment as a software engineer in Zurich. Initially, I would like to work in a smaller start-up company, as I think that will enable me to gain more skills quickly and apply my knowledge in practice. Ultimately, I will be open to any opportunities, especially as Zurich is home to many of the largest IT companies in the world.

My aspiration for the long-term is to create my own company or start-up, ideally in the mobile applications sector, as that is where my main interests lie.
Auction
17 bids, CHF 25'500 of CHF 30'000 filled
Calculate your sustainable return
CHF 30'000
Investment Amount
5.0%
Interest Rate
Your return (net of fees)
-
Currently Valid Bids
investor
Amount
Interest
Submitted
schulfer
6%
14.05.2021 07:32
Seafield13
6%
13.05.2021 15:36
Krypto
6%
08.05.2021 10:40
Manusch
6%
05.05.2021 11:21
Arishaka
6%
03.05.2021 11:23
berryman
6%
30.04.2021 10:54
Staufel
6%
29.04.2021 13:27
Sosicles
6%
29.04.2021 08:49
cedec
6%
27.04.2021 20:42
Arishaka
6%
23.04.2021 15:02
philantrofinancier
6%
23.04.2021 13:38
Documents
---
---
---
---
Contact Student
You have to be registered as investor to contact students.
Place bid
You need to complete the full registration first in order to place a bid. Please click on "Register as Investor"in the navigation bar.
You have to be registered as investor to place bids.
Sorry, but you can not place bids yet!
To place bids you must be registered as investor and have an active splend!t account.
Stop your auction early?
You're there! Investors like you and placed bids for the full amount you requested in your auction. Well done! Just be aware that if you stop the auction now, you will give up our chance of receiving better offers until expiry.
You are about to place an all-in! bid!
Are you sure you want to place this all-in! bid?
Amount: CHF 30000.00
Interest: %
Period: 72 Months
Payout date: May 2021
You are about to place a bid...
Are you sure to place this bid?
Amount: CHF
Interest: %
Period: 72 Months
Payout date: May 2021
Please adjust your settings
The interest rate will result a negative return and you will not be able to place bid
Lender full filled action settings
Lender full filled action description