ZHAW Wirtschaftsingenieur Bachelor
This is me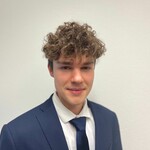 Nick name

Amoeba
Age

23 years
Highest education

ZHAW Winterthur
---
This is my Credit Motivation
Da mein Erspartes aus meiner Lehre als Elektroinstallateur EFZ bald aufgebraucht ist und meine Eltern mich nicht während der gesamten Studienzeit unterstützen können, benötige ich ein Darlehen. In den Semesterferien arbeite ich temporär im Stundenlohn als Elektroinstallateur EFZ, jedoch bleibt während dem Semester keine Zeit. Das Leben in der Schweiz ist teuer, auch wenn ich fast alle Mahlzeiten vorkoche. Zudem will ich mich nicht nur zu Hause verkriechen, sondern das Studentenleben geniessen.
Ich bin bemüht diesen Kredit so schnell wie möglich zurückzubezahlen und will nicht bis am Ende der Frist warten. Da ich bereits fast am Ende des 3. Semesters bin, haben Sie mit allerhöchster Wahrscheinlichkeit Ihr Geld früher wieder zurück. Die Frist dient lediglich zur Sicherheit, falls Arbeitsunfähigkeiten oder ähnliches dazwischenkommen sollten.
Über eine positive Antwort Ihrerseits würde ich mich sehr freuen. Vielen Dank und einen schönen Tag.
---
This is what I need
Credit amount

CHF 12'000
Maximum interest rate

6%
Start date

February 2023
Study time

36 months
Re-payment starts

February 2026
Re-payment time

12 months
Loan fully paid back

January 2027
---
This is my plan
School/University

ZHAW Winterthur
Main field of study

Wirtschaftsingenieur
Additional fields of study

Wirtschaftsingenieur
Begin of study

January 2021
End of study

August 2024
Current semester

3
Plans after study

Nach dem Studium freue ich mich auf anspruchsvolle Aufgaben im Bereich der Optimierung und will in einem 100% Pensum arbeiten.
Auction
Auction Closed
21 bids, CHF 12'000 of CHF 12'000 filled
Calculate your sustainable return
CHF 12'000
Investment Amount
5.0%
Interest Rate
Your return (net of fees)
-
Documents
---
---
---
---
---
---
---
---
Contact Student
You have to be registered as investor to contact students.
Place bid
You need to complete the full registration first in order to place a bid. Please click on "Register as Investor"in the navigation bar.
You have to be registered as investor to place bids.
Sorry, but you can not place bids yet!
To place bids you must be registered as investor and have an active splend!t account.
Stop your auction early?
You're there! Investors like you and placed bids for the full amount you requested in your auction. Well done! Just be aware that if you stop the auction now, you will give up our chance of receiving better offers until expiry.
You are about to place an all-in! bid!
Are you sure you want to place this all-in! bid?
Amount: CHF 12000.00
Interest: %
Period: 48 Months
Payout date: February 2023
You are about to place a bid...
Are you sure to place this bid?
Amount: CHF
Interest: %
Period: 48 Months
Payout date: February 2023
Please adjust your settings
The interest rate will result a negative return and you will not be able to place bid
Lender full filled action settings
Lender full filled action description