Ambitious Master in Management student needs your help!
Das bin ich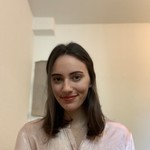 Nickname

HEC Lausanne ambitious student
Alter

23 Jahre
Höchste Ausbildung

HEC UNIL Lausanne
---
Darum brauche ich einen Bildungskredit
My name is Antonella Salluzzi, I am a 23-year-old student from Italy and I have been accepted to the Master of Management: Strategy, Organization and Leadership at HEC UNIL University in Lausanne, Switzerland. I have earned a Bachelor's Degree in Business Administration in Italy, and I have carried out two internships in Berlin from March to August 2019, working in business development, sales and marketing.
Having been admitted to HEC Lausanne represents an honour for me, considering the high-standard quality of the Master programme I have chosen and the outstanding reputation of the university itself. I chose, in fact, the Strategy, Organization and Leadership orientation of the Management course in order to acquire the finest theoretical and practical skills that would considerably boost my future career in management/consulting positions.
My parents have been supporting me since I started my Bachelor studies; however, to complete the Master at HEC UNIL Lausanne, I would need help with funding because of the considerable living costs in Switzerland. Tuition fees do not represent a concern since UNIL, as a public university, requires affordable tuition fees. What I would need funds for is to finance my staying in Lausanne for one year and a half, also considering that I come from a little village in the South of Italy with very low costs of living and that I completed my Bachelor's Degree in Siena, a middle-sized town in the centre of Italy where living costs were also far below the Swiss ones. In addition to this, my parents are also paying for my younger sister's education in Italy.
Obtaining these funds would allow me to fully focus my time and dedication on my studies without having to struggle with financial issues during my Master years, which will reflect in good marks and being qualified for relevant roles in my future career in Switzerland.
I thank you for your attention and I will be utterly grateful for your assistance towards my academic and professional growth.
---
Ich brauche
Erwünschter Betrag

CHF 20'000
Maximaler Zinssatz

6%
Anfangsdatum

September 2019
Zinsperiode

18 months
Beginn Rückzahlung

März 2021
Rückzahlungsdauer

30 months
Schulden zurückbezahlt

August 2023
---
Das ist mein Plan
Schule/Uni

HEC UNIL Lausanne
Hauptstudienrichtung

Master in Management
Zusätzliche Studiengebiete

Master in Management
Studienbeginn

September 2019
Abschluss des Studiums

März 2021
Derzeitiges Semester

1
Plan nach Studium

After my Master studies, my primary goal is to dedicate my efforts to find a stimulating entry position in the vibrant luxury industry in Switzerland, which has been a prominent passion and interest of mine for a long time. My Bachelor thesis on Gucci's sustainable brand management and corporate social responsibility policy exemplifies my vivid interest in sustainable practices in the luxury industry. And what better place to realize my future plans than Switzerland itself, house to many luxury brands and multinational companies.
Auktion
Auktion geschlossen
12 Gebote, CHF 20'000 of CHF 20'000 gefüllt
Berechne deinen nachhaltigen Ertrag
CHF 20'000
Investierter Betrag
5.0%
Zins
Dokumente
---
---


C1.jpg
English C1 Advanced English certificate
---
Refrerence letter (ZANNI).pdf
Reference Letter from my Bachelor's Marketing professor
---
CV..pdf
CV
---
Student kontaktieren
Du musst als Investor angemeldet sein, um Studenten zu kontaktieren.
Gebot abgeben
Deine Registrierung ist noch nicht abgeschlossen. Bitte klicke auf "Als Investor registrieren" in der Navigationsleiste.
Du musst als Investor registriert sein, um ein Gebot abgeben zu können.
Sorry, aber du darfst noch nicht mitbieten!
Um mitbieten zu können, musst du als Investor registriert sein und ein aktives splend!t Konto haben.
Auktion frühzeitig beenden?
Du bist am Ziel! Investoren finden dich gut und haben den vollen Betrag deiner Auktion geboten. Gut gemacht! Beachte einfach, dass du die Chance auf bessere Gebote aufgibst, wenn du die Auktion jetzt beendest.
Du möchtest ein all-in! Gebot abgeben!
Bist du sicher, dass du dieses all-in! Gebot abgeben möchtest?
Betrag: CHF 20000.00
Zins: %
Laufzeit: 48 Monate
Auszahlungsdatum: September 2019
Du möchtest bieten...
Bist Du sicher, dass du dieses Gebot abgeben möchstest?
Betrag: CHF
Zins: %
Laufzeit: 48 Monate
Auszahlungsdatum: September 2019
Bitte passen Sie Ihre Einstellungen an
Der gewählte Zins wird zu einer negativen Rendite führen. Sie können damit kein Angebot platzieren.
Lender full filled action settings
Lender full filled action description