IMD MBA 2019 -Product/Sales/SCM strategy
Das bin ich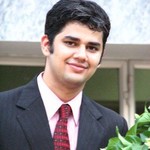 Nickname

ST
Alter

32 Jahre
Höchste Ausbildung

IMD Lausanne
---
Darum brauche ich einen Bildungskredit
I am Sumeet Trehan from India and will be joining the IMD MBA program from Jan of 2019. I got selected to IMD through a competitive "India Challenge" competetion conducted by IMD in Mumbai India (selection ratio 4%). I have also been offered the "Emerging Market Scolorship" by IMD which is usually awarded to people with strong career track record and joining IMD from emerging economies
A little about me . I am a graduate in production engineering and did my masters in business studies from IIT Kharagpur (one of India's top technical universities). I have over 7 years of experience in general management with focus on product and sales strategy . I have worked across diverse industries including telecom ,shipping and logisitcs. The last 5.5 years of my career have been focussed on international trade and supply chain ,mostly at Maersk (biggest logistics company in world ). At Maersk I was selected as part of its global leadership program (30+ applicants selected from 65000 applications globally). I worked at Maersk in different roles and geographies ; sales , operations strategy ,customer experience strategy and finally rose to head a USD 40 mn supply chain business at DAMCO (Maersk group company). More recently I have been working at a Warburg Pinicus backed unicorn startup in logisitcs and supply chain helping establish the enterprise business by creating successful sales and product strategies. I was awarded the "Young Talent" award at Maersk and have turned around 3 different products/markets through innovation and digitalisation
I am looking for a CHF 50 k funding at splendit. I have already paid CHF 30k fees to IMD and looking to use the CHF 50 k for remaining fees (25k) and living expenses (25k)
---
Ich brauche
Erwünschter Betrag

CHF 50'000
Maximaler Zinssatz

7.5%
Anfangsdatum

Januar 2019
Zinsperiode

14 months
Beginn Rückzahlung

März 2020
Rückzahlungsdauer

36 months
Schulden zurückbezahlt

Februar 2023
---
Das ist mein Plan
Schule/Uni

IMD Lausanne
Hauptstudienrichtung

MBA
Zusätzliche Studiengebiete

MBA
Studienbeginn

Januar 2019
Abschluss des Studiums

November 2019
Derzeitiges Semester

4
Plan nach Studium

I am deeply passionate about using technology to disrupt traditional industries and products. I have created several different programs/product to disrupt supply chain industry during last 5.5 years.

I would like to leverage my IMD experience to enter consulting space in Europe or Middle East and help clients digitalise and disrupt their supply chains . I would also like to explore options of directly working with large CPG /CPD and related industries in senior supply chain roles to help them create strategic advantages using technology and supply chain.
Auktion
Auktion geschlossen
19 Gebote, CHF 50'000 of CHF 50'000 gefüllt
Berechne deinen nachhaltigen Ertrag
CHF 50'000
Investierter Betrag
5.0%
Zins
Student kontaktieren
Du musst als Investor angemeldet sein, um Studenten zu kontaktieren.
Gebot abgeben
Deine Registrierung ist noch nicht abgeschlossen. Bitte klicke auf "Als Investor registrieren" in der Navigationsleiste.
Du musst als Investor registriert sein, um ein Gebot abgeben zu können.
Sorry, aber du darfst noch nicht mitbieten!
Um mitbieten zu können, musst du als Investor registriert sein und ein aktives splend!t Konto haben.
Auktion frühzeitig beenden?
Du bist am Ziel! Investoren finden dich gut und haben den vollen Betrag deiner Auktion geboten. Gut gemacht! Beachte einfach, dass du die Chance auf bessere Gebote aufgibst, wenn du die Auktion jetzt beendest.
Du möchtest ein all-in! Gebot abgeben!
Bist du sicher, dass du dieses all-in! Gebot abgeben möchtest?
Betrag: CHF 50000.00
Zins: %
Laufzeit: 50 Monate
Auszahlungsdatum: Januar 2019
Du möchtest bieten...
Bist Du sicher, dass du dieses Gebot abgeben möchstest?
Betrag: CHF
Zins: %
Laufzeit: 50 Monate
Auszahlungsdatum: Januar 2019
Bitte passen Sie Ihre Einstellungen an
Der gewählte Zins wird zu einer negativen Rendite führen. Sie können damit kein Angebot platzieren.
Lender full filled action settings
Lender full filled action description