IMD MBA 2019 -Product/Sales/SCM strategy
This is me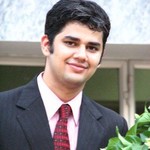 Nick name

ST
Age

32 years
Highest education

IMD Lausanne
---
This is my Credit Motivation
I am Sumeet Trehan from India and will be joining the IMD MBA program from Jan of 2019. I got selected to IMD through a competitive "India Challenge" competetion conducted by IMD in Mumbai India (selection ratio 4%). I have also been offered the "Emerging Market Scolorship" by IMD which is usually awarded to people with strong career track record and joining IMD from emerging economies
A little about me . I am a graduate in production engineering and did my masters in business studies from IIT Kharagpur (one of India's top technical universities). I have over 7 years of experience in general management with focus on product and sales strategy . I have worked across diverse industries including telecom ,shipping and logisitcs. The last 5.5 years of my career have been focussed on international trade and supply chain ,mostly at Maersk (biggest logistics company in world ). At Maersk I was selected as part of its global leadership program (30+ applicants selected from 65000 applications globally). I worked at Maersk in different roles and geographies ; sales , operations strategy ,customer experience strategy and finally rose to head a USD 40 mn supply chain business at DAMCO (Maersk group company). More recently I have been working at a Warburg Pinicus backed unicorn startup in logisitcs and supply chain helping establish the enterprise business by creating successful sales and product strategies. I was awarded the "Young Talent" award at Maersk and have turned around 3 different products/markets through innovation and digitalisation
I am looking for a CHF 50 k funding at splendit. I have already paid CHF 30k fees to IMD and looking to use the CHF 50 k for remaining fees (25k) and living expenses (25k)
---
This is what I need
Credit amount

CHF 50'000
Maximum interest rate

7.5%
Start date

January 2019
Study time

14 months
Re-payment starts

March 2020
Re-payment time

36 months
Loan fully paid back

February 2023
---
This is my plan
School/University

IMD Lausanne
Main field of study

MBA
Additional fields of study

MBA
Begin of study

January 2019
End of study

November 2019
Current semester

4
Plans after study

I am deeply passionate about using technology to disrupt traditional industries and products. I have created several different programs/product to disrupt supply chain industry during last 5.5 years.

I would like to leverage my IMD experience to enter consulting space in Europe or Middle East and help clients digitalise and disrupt their supply chains . I would also like to explore options of directly working with large CPG /CPD and related industries in senior supply chain roles to help them create strategic advantages using technology and supply chain.
Auction
Auction Closed
19 bids, CHF 50'000 of CHF 50'000 filled
Calculate your sustainable return
CHF 50'000
Investment Amount
5.0%
Interest Rate
Your return (net of fees)
-
Contact Student
You have to be registered as investor to contact students.
Place bid
You need to complete the full registration first in order to place a bid. Please click on "Register as Investor"in the navigation bar.
You have to be registered as investor to place bids.
Sorry, but you can not place bids yet!
To place bids you must be registered as investor and have an active splend!t account.
Stop your auction early?
You're there! Investors like you and placed bids for the full amount you requested in your auction. Well done! Just be aware that if you stop the auction now, you will give up our chance of receiving better offers until expiry.
You are about to place an all-in! bid!
Are you sure you want to place this all-in! bid?
Amount: CHF 50000.00
Interest: %
Period: 50 Months
Payout date: January 2019
You are about to place a bid...
Are you sure to place this bid?
Amount: CHF
Interest: %
Period: 50 Months
Payout date: January 2019
Please adjust your settings
The interest rate will result a negative return and you will not be able to place bid
Lender full filled action settings
Lender full filled action description