Support for MBA Student at UNI SG
Das bin ich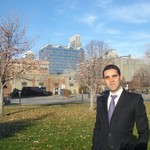 Nickname

Victor
Alter

34 Jahre
Höchste Ausbildung

University of St. Gallen
---
Darum brauche ich einen Bildungskredit
Dear investors. My name is Alfieri Migone, I am an Italian/Peruvian economist from Universidad del Pacifico, one of the best business school in latin america and the best in Peru.
I had built my career as an financial professional working as investment banker and as financial controller. Currently I hold a position as head of controlling for the Synlab Group, Europe's biggest clinical diagnosis provider and lab operator.
I had reach that point in my professional life where I need to keep growing and looking for new challenges. That is why University of St Gallen had admitted me in its full time MBA program, which for me is a great honor.
Taking a full time MBA takes time, money and full commitment. That is why I am asking for your help. Right now I am able to afford my accomodation an living expenses, and University of St Gallen had awarded me a CHF 5,000 emerging market scholarship, however I require your help to fund the tutiton fee.
I am asking for CHF 58,500 which will be used in the following way: CHF 53,500 for the tution fee, and CHF 5,000 for the interest during the interest period of the first year. During the second year I will be able to pay the interest with savings and with the CHF 3000 monthly salary University of St Gallen pays full time students on the last 3 months of the program.
Between the end of the MBA and the amortization period I am setting a 6 month time window in order to start looking for a job ( probably I will be start looking for one sooner) so I can start generating enough income to pay back your money. According to Financial Times; University of St Gallen MBA graduates make an average annual income of CHF 120,000, so the amortization payments are well covered.
With nothing else to add, I want to thank you for reading through these lines and for having your support.
---
Ich brauche
Erwünschter Betrag

CHF 58'500
Maximaler Zinssatz

8%
Anfangsdatum

Mai 2020
Zinsperiode

24 months
Beginn Rückzahlung

Mai 2022
Rückzahlungsdauer

36 months
Schulden zurückbezahlt

April 2025
---
Das ist mein Plan
Schule/Uni

University of St. Gallen
Hauptstudienrichtung

MBA
Zusätzliche Studiengebiete

MBA
Studienbeginn

August 2020
Abschluss des Studiums

August 2021
Derzeitiges Semester

2
Plan nach Studium

After the MBA is my intention to keep working as a financial profesional in a corporate senior position or as corporate finance specialist in some banking.

In the short term I would like to stay in europe for some years and get some experience on the corporate world. I think the challenges of the european landscape are higher than those of a emerging country, and geting such experience will improve my skills to deal with all type of situations and absorb the best of a different culture.

On the long term I would like to return to Peru, the country I was born and grew up. The reason for this is that countries like Peru present a lot of opportunities for change and improvement, and I belive well prepared professionals with a different point of view are the catalyst for that change.
Auktion
Auktion geschlossen
31 Gebote, CHF 58'500 of CHF 58'500 gefüllt
Berechne deinen nachhaltigen Ertrag
CHF 58'500
Investierter Betrag
6.0%
Zins
Student kontaktieren
Du musst als Investor angemeldet sein, um Studenten zu kontaktieren.
Gebot abgeben
Deine Registrierung ist noch nicht abgeschlossen. Bitte klicke auf "Als Investor registrieren" in der Navigationsleiste.
Du musst als Investor registriert sein, um ein Gebot abgeben zu können.
Sorry, aber du darfst noch nicht mitbieten!
Um mitbieten zu können, musst du als Investor registriert sein und ein aktives splend!t Konto haben.
Auktion frühzeitig beenden?
Du bist am Ziel! Investoren finden dich gut und haben den vollen Betrag deiner Auktion geboten. Gut gemacht! Beachte einfach, dass du die Chance auf bessere Gebote aufgibst, wenn du die Auktion jetzt beendest.
Du möchtest ein all-in! Gebot abgeben!
Bist du sicher, dass du dieses all-in! Gebot abgeben möchtest?
Betrag: CHF 58500.00
Zins: %
Laufzeit: 60 Monate
Auszahlungsdatum: Mai 2020
Du möchtest bieten...
Bist Du sicher, dass du dieses Gebot abgeben möchstest?
Betrag: CHF
Zins: %
Laufzeit: 60 Monate
Auszahlungsdatum: Mai 2020
Bitte passen Sie Ihre Einstellungen an
Der gewählte Zins wird zu einer negativen Rendite führen. Sie können damit kein Angebot platzieren.
Lender full filled action settings
Lender full filled action description