Support for MBA Student at UNI SG
This is me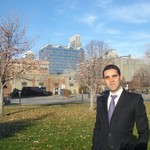 Nick name

Victor
Age

34 years
Highest education

University of St. Gallen
---
This is my Credit Motivation
Dear investors. My name is Alfieri Migone, I am an Italian/Peruvian economist from Universidad del Pacifico, one of the best business school in latin america and the best in Peru.
I had built my career as an financial professional working as investment banker and as financial controller. Currently I hold a position as head of controlling for the Synlab Group, Europe's biggest clinical diagnosis provider and lab operator.
I had reach that point in my professional life where I need to keep growing and looking for new challenges. That is why University of St Gallen had admitted me in its full time MBA program, which for me is a great honor.
Taking a full time MBA takes time, money and full commitment. That is why I am asking for your help. Right now I am able to afford my accomodation an living expenses, and University of St Gallen had awarded me a CHF 5,000 emerging market scholarship, however I require your help to fund the tutiton fee.
I am asking for CHF 58,500 which will be used in the following way: CHF 53,500 for the tution fee, and CHF 5,000 for the interest during the interest period of the first year. During the second year I will be able to pay the interest with savings and with the CHF 3000 monthly salary University of St Gallen pays full time students on the last 3 months of the program.
Between the end of the MBA and the amortization period I am setting a 6 month time window in order to start looking for a job ( probably I will be start looking for one sooner) so I can start generating enough income to pay back your money. According to Financial Times; University of St Gallen MBA graduates make an average annual income of CHF 120,000, so the amortization payments are well covered.
With nothing else to add, I want to thank you for reading through these lines and for having your support.
---
This is what I need
Credit amount

CHF 58'500
Maximum interest rate

8%
Start date

May 2020
Study time

24 months
Re-payment starts

May 2022
Re-payment time

36 months
Loan fully paid back

April 2025
---
This is my plan
School/University

University of St. Gallen
Main field of study

MBA
Additional fields of study

MBA
Begin of study

August 2020
End of study

August 2021
Current semester

2
Plans after study

After the MBA is my intention to keep working as a financial profesional in a corporate senior position or as corporate finance specialist in some banking.

In the short term I would like to stay in europe for some years and get some experience on the corporate world. I think the challenges of the european landscape are higher than those of a emerging country, and geting such experience will improve my skills to deal with all type of situations and absorb the best of a different culture.

On the long term I would like to return to Peru, the country I was born and grew up. The reason for this is that countries like Peru present a lot of opportunities for change and improvement, and I belive well prepared professionals with a different point of view are the catalyst for that change.
Auction
Auction Closed
31 bids, CHF 58'500 of CHF 58'500 filled
Calculate your sustainable return
CHF 58'500
Investment Amount
6.0%
Interest Rate
Your return (net of fees)
-
Contact Student
You have to be registered as investor to contact students.
Place bid
You need to complete the full registration first in order to place a bid. Please click on "Register as Investor"in the navigation bar.
You have to be registered as investor to place bids.
Sorry, but you can not place bids yet!
To place bids you must be registered as investor and have an active splend!t account.
Stop your auction early?
You're there! Investors like you and placed bids for the full amount you requested in your auction. Well done! Just be aware that if you stop the auction now, you will give up our chance of receiving better offers until expiry.
You are about to place an all-in! bid!
Are you sure you want to place this all-in! bid?
Amount: CHF 58500.00
Interest: %
Period: 60 Months
Payout date: May 2020
You are about to place a bid...
Are you sure to place this bid?
Amount: CHF
Interest: %
Period: 60 Months
Payout date: May 2020
Please adjust your settings
The interest rate will result a negative return and you will not be able to place bid
Lender full filled action settings
Lender full filled action description