Support me in fulfilling my dream - MBA at IMD
Das bin ich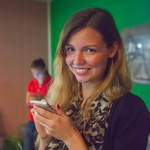 Nickname

AB
Alter

32 Jahre
Höchste Ausbildung

IMD Lausanne
---
Darum brauche ich einen Bildungskredit
I am 32 years old and to date have accumulated 10 years of experience in IT, project management and business development, both in the financial sector and professional services. I started working during my studies and upon graduation designed IT systems that enabled launch of innovative banking products at Barclays Russia. In 2011 I joined KPMG as a business analyst and 3 years later became the Head of IT PMO supervising the IT project portfolio of 80+ projects and facilitating the firm's digital transformation across 6 CIS countries.
My desire to work internationally brought me to Amsterdam in 2015 where as an EMEA Adoption and Change Manager I drove implementation of global IT solutions across 31 KPMG regional member firms. To broaden my experience from IT to business development, I joined a technology startup in Germany last year where I have been using my skills to increase the sales leads by 20% and launch a new service.
To achieve my professional goal - drive digital transformation programs at a more international and larger scale - I would need not only in-depth knowledge of business and economy but also specific insights into digital innovation and strong leadership skills. For this reason, I have chosen to pursue my MBA at IMD, which is famous for its leadership development program and a strong focus on global and digital.
I have paid the first two installments (around 35% of the tuition fees) from my savings and will be applying for a loan to cover the remaining part. I have also applied for the scholarships (the decision is due in mid-November). To cover my living expenses I am looking for financial support.
I am attaching my budget estimate, which I have calculated with 15% contingency to make sure I will be able to deal with any unexpected costs should the latter occur. The program duration is 11 months (from January 2019 till December 2019) and I am expecting to get an offer within 3 months after graduation and start repaying the loan in Q1-Q2 2020.
I thank you in advance for your interest and would very much appreciate your contributions. I am just in one step from embarking on my MBA journey and I hope for your support to help me to fulfill my dream.
Should you have any questions, please do not hesitate to contact me.
Thank you!
---
Ich brauche
Erwünschter Betrag

CHF 40'000
Maximaler Zinssatz

6%
Anfangsdatum

November 2018
Zinsperiode

18 months
Beginn Rückzahlung

Mai 2020
Rückzahlungsdauer

36 months
Schulden zurückbezahlt

April 2023
---
Das ist mein Plan
Schule/Uni

IMD Lausanne
Hauptstudienrichtung

MBA
Zusätzliche Studiengebiete

MBA
Studienbeginn

Januar 2019
Abschluss des Studiums

Dezember 2019
Derzeitiges Semester

0
Plan nach Studium

I am keen to continue to drive automation and transformation programs, but at a more international and larger scale, capitalizing on my background and leveraging additional knowledge gained through MBA. In a role of a Digital Program Manager or Client Service Executive in a global fast-paced consulting or technology company, I will design and execute change strategies and IT automation programs for enterprises to achieve greater efficiencies and move towards a digital future.
Auktion
Auktion geschlossen
17 Gebote, CHF 40'000 of CHF 40'000 gefüllt
Berechne deinen nachhaltigen Ertrag
CHF 40'000
Investierter Betrag
5.0%
Zins
Dokumente
---
---
---
---
---
Student kontaktieren
Du musst als Investor angemeldet sein, um Studenten zu kontaktieren.
Gebot abgeben
Deine Registrierung ist noch nicht abgeschlossen. Bitte klicke auf "Als Investor registrieren" in der Navigationsleiste.
Du musst als Investor registriert sein, um ein Gebot abgeben zu können.
Sorry, aber du darfst noch nicht mitbieten!
Um mitbieten zu können, musst du als Investor registriert sein und ein aktives splend!t Konto haben.
Auktion frühzeitig beenden?
Du bist am Ziel! Investoren finden dich gut und haben den vollen Betrag deiner Auktion geboten. Gut gemacht! Beachte einfach, dass du die Chance auf bessere Gebote aufgibst, wenn du die Auktion jetzt beendest.
Du möchtest ein all-in! Gebot abgeben!
Bist du sicher, dass du dieses all-in! Gebot abgeben möchtest?
Betrag: CHF 40000.00
Zins: %
Laufzeit: 54 Monate
Auszahlungsdatum: November 2018
Du möchtest bieten...
Bist Du sicher, dass du dieses Gebot abgeben möchstest?
Betrag: CHF
Zins: %
Laufzeit: 54 Monate
Auszahlungsdatum: November 2018
Bitte passen Sie Ihre Einstellungen an
Der gewählte Zins wird zu einer negativen Rendite führen. Sie können damit kein Angebot platzieren.
Lender full filled action settings
Lender full filled action description