Support me in fulfilling my dream - MBA at IMD
This is me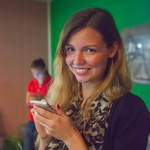 Nick name

AB
Age

32 years
Highest education

IMD Lausanne
---
This is my Credit Motivation
I am 32 years old and to date have accumulated 10 years of experience in IT, project management and business development, both in the financial sector and professional services. I started working during my studies and upon graduation designed IT systems that enabled launch of innovative banking products at Barclays Russia. In 2011 I joined KPMG as a business analyst and 3 years later became the Head of IT PMO supervising the IT project portfolio of 80+ projects and facilitating the firm's digital transformation across 6 CIS countries.
My desire to work internationally brought me to Amsterdam in 2015 where as an EMEA Adoption and Change Manager I drove implementation of global IT solutions across 31 KPMG regional member firms. To broaden my experience from IT to business development, I joined a technology startup in Germany last year where I have been using my skills to increase the sales leads by 20% and launch a new service.
To achieve my professional goal - drive digital transformation programs at a more international and larger scale - I would need not only in-depth knowledge of business and economy but also specific insights into digital innovation and strong leadership skills. For this reason, I have chosen to pursue my MBA at IMD, which is famous for its leadership development program and a strong focus on global and digital.
I have paid the first two installments (around 35% of the tuition fees) from my savings and will be applying for a loan to cover the remaining part. I have also applied for the scholarships (the decision is due in mid-November). To cover my living expenses I am looking for financial support.
I am attaching my budget estimate, which I have calculated with 15% contingency to make sure I will be able to deal with any unexpected costs should the latter occur. The program duration is 11 months (from January 2019 till December 2019) and I am expecting to get an offer within 3 months after graduation and start repaying the loan in Q1-Q2 2020.
I thank you in advance for your interest and would very much appreciate your contributions. I am just in one step from embarking on my MBA journey and I hope for your support to help me to fulfill my dream.
Should you have any questions, please do not hesitate to contact me.
Thank you!
---
This is what I need
Credit amount

CHF 40'000
Maximum interest rate

6%
Start date

November 2018
Study time

18 months
Re-payment starts

May 2020
Re-payment time

36 months
Loan fully paid back

April 2023
---
This is my plan
School/University

IMD Lausanne
Main field of study

MBA
Additional fields of study

MBA
Begin of study

January 2019
End of study

December 2019
Current semester

0
Plans after study

I am keen to continue to drive automation and transformation programs, but at a more international and larger scale, capitalizing on my background and leveraging additional knowledge gained through MBA. In a role of a Digital Program Manager or Client Service Executive in a global fast-paced consulting or technology company, I will design and execute change strategies and IT automation programs for enterprises to achieve greater efficiencies and move towards a digital future.
Auction
Auction Closed
17 bids, CHF 40'000 of CHF 40'000 filled
Calculate your sustainable return
CHF 40'000
Investment Amount
5.0%
Interest Rate
Your return (net of fees)
-
Documents
---
---
---
---
---
Contact Student
You have to be registered as investor to contact students.
Place bid
You need to complete the full registration first in order to place a bid. Please click on "Register as Investor"in the navigation bar.
You have to be registered as investor to place bids.
Sorry, but you can not place bids yet!
To place bids you must be registered as investor and have an active splend!t account.
Stop your auction early?
You're there! Investors like you and placed bids for the full amount you requested in your auction. Well done! Just be aware that if you stop the auction now, you will give up our chance of receiving better offers until expiry.
You are about to place an all-in! bid!
Are you sure you want to place this all-in! bid?
Amount: CHF 40000.00
Interest: %
Period: 54 Months
Payout date: November 2018
You are about to place a bid...
Are you sure to place this bid?
Amount: CHF
Interest: %
Period: 54 Months
Payout date: November 2018
Please adjust your settings
The interest rate will result a negative return and you will not be able to place bid
Lender full filled action settings
Lender full filled action description