HEC Lausanne: MSc in Finance
This is me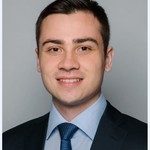 Nick name

ERO
Age

25 years
Highest education

HEC Lausanne
---
This is my Credit Motivation
Im vergangenen Januar habe ich meinen Bachelor in Wirtschaftswissenschaften (Schwerpunkt: Banking & Finance) an der Universität Zürich mit dem Prädikat summa cum laude (Gesamtnote von 5.50) erfolgreich abgeschlossen. Bereits vor und während meiner Studienzeit war es mir ein wichtiges Anliegen jeweils mit der Praxis verbunden zu sein, weshalb ich bereits über zahlreiche Berufserfahrungen (bei UBS und Ernst & Young) verfüge. Dabei habe ich stets darauf geachtet, dass die Teilzeitstellen/Praktika mir einen Einblick in möglichst unterschiedliche Bereiche geben. Basierend auf diesen vielseitigen Berufserfahrungen habe ich mich entschieden, den Masterstudiengang in Finance an der HEC Lausanne im September 2018 zu beginnen. Nicht nur geniesst dieser 2-jährige Studiengang von der Wirtschaftsfakultät der Universität Lausanne (HEC Lausanne) einen guten Ruf (gemäss dem weltweit anerkannten Ranking von "The Financial Times" rangiert er auf dem 30. Platz aller untersuchten Universitäten), sondern er hebt sich von vergleichbaren Studiengängen auch wegen seiner quantitativen Ausrichtung ab (siehe Dokument "Informationen zum Studiengang"). Diese quantitative Herangehensweise war für mich ausschlaggebend, denn bei den Berufsanforderungen sind je länger, desto mehr Statistik- wie auch Programmier-Kenntnisse verlangt. Ein weiterer Grund, weshalb ich mich für die HEC Lausanne entschieden habe, liegt darin, dass ich meine Französisch-Kenntnisse verbessern will.
Da es sich hierbei um eine anspruchsvolle Ausbildung handelt, die es nicht zulässt nebenher zu arbeiten, wäre ich Ihnen sehr dankbar, wenn Sie mein Vorhaben finanziell unterstützen könnten. Dem beigefügten Dokument "Budget als Student" entnehmen Sie wofür ich das Darlehen benötige. Ebenso zeige ich in den beiden Dokumenten "Budget bei Erwerbstätigkeit" und "Rückzahlungsplan" auf, dass ich nach der Ausbildung finanziell imstande sein werde das Darlehen zu amortisieren. Ferner habe ich dem Antrag Abschlusszeugnisse, Arbeitszeugnisse, Betreibungsregisterauszug, Informationen zum Studiengang, Englisch Zertifikat sowie meinen Lebenslauf beigefügt.
---
This is what I need
Credit amount

CHF 37'000
Maximum interest rate

7.5%
Start date

July 2018
Study time

36 months
Re-payment starts

July 2021
Re-payment time

36 months
Loan fully paid back

June 2024
---
This is my plan
School/University

HEC Lausanne
Main field of study

Master of Science in Finance
Additional fields of study

Master of Science in Finance
Begin of study

September 2018
End of study

August 2020
Current semester

0
Plans after study

Nachdem ich den Master of Science in Finance an der HEC Lausanne abgeschlossen haben werde, beabsichtige ich in der Beratung, Entwicklung und Analyse von Finanzprodukten zu arbeiten.
Auction
Auction Closed
12 bids, CHF 37'000 of CHF 37'000 filled
Calculate your sustainable return
CHF 37'000
Investment Amount
5.0%
Interest Rate
Your return (net of fees)
-
Documents
---
---
---
---
---
---
---
---
---
---
---
Contact Student
You have to be registered as investor to contact students.
Place bid
You need to complete the full registration first in order to place a bid. Please click on "Register as Investor"in the navigation bar.
You have to be registered as investor to place bids.
Sorry, but you can not place bids yet!
To place bids you must be registered as investor and have an active splend!t account.
Stop your auction early?
You're there! Investors like you and placed bids for the full amount you requested in your auction. Well done! Just be aware that if you stop the auction now, you will give up our chance of receiving better offers until expiry.
You are about to place an all-in! bid!
Are you sure you want to place this all-in! bid?
Amount: CHF 37000.00
Interest: %
Period: 72 Months
Payout date: July 2018
You are about to place a bid...
Are you sure to place this bid?
Amount: CHF
Interest: %
Period: 72 Months
Payout date: July 2018
Please adjust your settings
The interest rate will result a negative return and you will not be able to place bid
Lender full filled action settings
Lender full filled action description