Help fund a Master Programme Student
This is me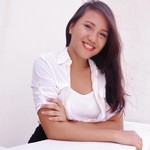 Nick name

Jayne
Age

23 years
Highest education

The Graduate Institute of Geneva
---
This is my Credit Motivation
My name is Kristabela Garnace. I am 22 years old and I am coming from the Philippines. I have had the pleasure of being admitted for the Masters Programme of International Affairs at the Graduate Intsitute of Geneva.
It has been always a plan to further my studies for a more profitable profile. Immediately after graduating, I waited just a little to work in the emirates with the goal of closing the gap between earnings and time of labor so that I may pursue a career that I feel more passionate doing. Needless to say, studying in switzerland is abit expensive for my saving's worth. A year and a half of working only pays for my first semester's cost of living or my tuition.
My parents have made sure that I am able to finish my undergraduate and they are to make sure that my two other siblings do the same. With that circumstance, I am doing the financing on my own as this further educational attainment is a definite dream of mine.
When I got admitted, however, I did not have alot of second thoughts, It is a risk with a big pay off in the end. I chose Geneva and the institution that I am in because it is the best place in the world for my field and I planned to finance myself by working and studying at the same time. I am applying to Splendit with the hope that it can help to lessen my load; With that, be able to focus on my studies, graduate on time, and be able to work immediately. A linear path would be nice for once.
Please accept my gratitude for taking the time to read my profile and considering to invest on education.

---
This is what I need
Credit amount

CHF 16'000
Maximum interest rate

5.5%
Start date

November 2019
Study time

20 months
Re-payment starts

July 2021
Re-payment time

24 months
Loan fully paid back

June 2023
---
This is my plan
School/University

The Graduate Institute of Geneva
Main field of study

Interdisciplinary Master in International Affairs
Additional fields of study

Interdisciplinary Master in International Affairs
Begin of study

September 2019
End of study

June 2021
Current semester

4
Plans after study

My general professional interest is to be working for an institution geared towards innovations and well being of societies may it be private companies or NGOs. I am eager to invest in my profile and driven to gather important networks that will have good influence on my career. For the short term, I teach english on the side and will still work light so that I may already start building up my payment for the loan I may incur here.
Auction
Auction Closed
17 bids, CHF 16'000 of CHF 16'000 filled
Calculate your sustainable return
CHF 16'000
Investment Amount
4.0%
Interest Rate
Your return (net of fees)
-
Contact Student
You have to be registered as investor to contact students.
Place bid
You need to complete the full registration first in order to place a bid. Please click on "Register as Investor"in the navigation bar.
You have to be registered as investor to place bids.
Sorry, but you can not place bids yet!
To place bids you must be registered as investor and have an active splend!t account.
Stop your auction early?
You're there! Investors like you and placed bids for the full amount you requested in your auction. Well done! Just be aware that if you stop the auction now, you will give up our chance of receiving better offers until expiry.
You are about to place an all-in! bid!
Are you sure you want to place this all-in! bid?
Amount: CHF 16000.00
Interest: %
Period: 44 Months
Payout date: November 2019
You are about to place a bid...
Are you sure to place this bid?
Amount: CHF
Interest: %
Period: 44 Months
Payout date: November 2019
Please adjust your settings
The interest rate will result a negative return and you will not be able to place bid
Lender full filled action settings
Lender full filled action description