Informatiker Applikationsentwicklung EFZ
This is me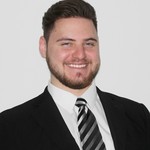 Nick name

GN
Age

23 years
Highest education

Zürcher Lehrbetriebsverband ICT (ZLI)
---
This is my Credit Motivation
Meine Ausbildung zum Detailhandelsfachmann bei einem ElektronikGeschäft habe ich Ende Juli 2016 erfolgreich beendet. Als begeisterter Fachberater war ich von Oktober 2016 bis Juli 2017 weiterhin tätig. Die Begeisterung für neue Technologien in der Elektronikbranche lag mir stets am Herzen. Von Dezember 2017 bis März 2018 installierte ich im Auftrag von Swisscom Router, TV-Boxen, SIP-Telefone und Zubehör bei Kunden vor Ort. Das Arbeiten und Inbetriebnahme mit netzwerkfähigen Geräten machten mir stets sehr viel Spass. Vor meiner Lehre habe ich bereits in meiner Freizeit Webseiten und kleine Spiele programmiert. Von früh bis spät programmierte ich an kleinen Projekten, die mir sehr viel Spass bereiteten, veränderte ständig Elemente an der Webseite und verbesserte jedes Detail. Nach dem ich die Erfahrung mit dem Programmieren machen durfte, wollte ich schon immer im Informatikbereich tätig sein. Leider konnte ich dieses Ziel damals nicht erreichen. Heute möchte ich meinen Traum jedoch erreichen und sehe dies als meine grösste Motivation und perfekte Herausforderung mit Zukunft für mich. Mit Splendit erhoffe ich mir dieses Ziel endlich erreichen zu können. Die verkürzte Lehre als Informatiker Applikationsentwicklung EFZ beginne ich am 19. August 2019. Gerne möchte ich den vollen Betrag von CHF 25'000.- im Voraus bezahlen, damit ich mich auf die Schule konzentrieren kann. Ich freue mich auf jeden Beitrag und bedanke mich ganz herzlich für Ihre Unterstützung!
Anmerkung Splendit: Der Darlehensbetrag wird vollständig an ZLI (Ausbildungsstätte) überwiesen
---
This is what I need
Credit amount

CHF 25'000
Maximum interest rate

6%
Start date

May 2019
Study time

25 months
Re-payment starts

June 2021
Re-payment time

23 months
Loan fully paid back

April 2023
---
This is my plan
School/University

Zürcher Lehrbetriebsverband ICT (ZLI)
Main field of study

Informatiker / Programmierer
Additional fields of study

Informatiker / Programmierer
Begin of study

August 2019
End of study

August 2021
Current semester

0
Plans after study

Arbeit mit Spass zu kombinieren und damit meinen persönlichen Beitrag als Informatiker leisten zu können, sehe ich als grosse Motivation mit einer Zukunft für mich. Im IT-Berreich muss ich 220 praktische Tage vorweissen können. Da man sowieso ein Praktium während der Ausbildung braucht, wird man zu 90% nach der Ausbildung, mehr als 2 Jahre im selben Betrieb verpflichtet und somit protiert man von der Festanstellung und der Sicherheit der Arbeitsstelle. Somit ist die Rückzahlung kein Problem.
Auction
Auction Closed
22 bids, CHF 25'000 of CHF 25'000 filled
Calculate your sustainable return
CHF 25'000
Investment Amount
5.0%
Interest Rate
Your return (net of fees)
-
Documents
---
---
---
---
Contact Student
You have to be registered as investor to contact students.
Place bid
You need to complete the full registration first in order to place a bid. Please click on "Register as Investor"in the navigation bar.
You have to be registered as investor to place bids.
Sorry, but you can not place bids yet!
To place bids you must be registered as investor and have an active splend!t account.
Stop your auction early?
You're there! Investors like you and placed bids for the full amount you requested in your auction. Well done! Just be aware that if you stop the auction now, you will give up our chance of receiving better offers until expiry.
You are about to place an all-in! bid!
Are you sure you want to place this all-in! bid?
Amount: CHF 25000.00
Interest: %
Period: 48 Months
Payout date: May 2019
You are about to place a bid...
Are you sure to place this bid?
Amount: CHF
Interest: %
Period: 48 Months
Payout date: May 2019
Please adjust your settings
The interest rate will result a negative return and you will not be able to place bid
Lender full filled action settings
Lender full filled action description