Let's change the face of international business and build reliable global supply chains.
This is me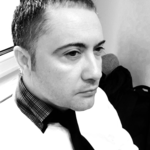 Nick name

LLK
Age

43 years
Highest education

American University in Switzerland
---
This is my Credit Motivation
The COVID-19 pandemic, has caused massive disruptions in the lifestyle of many people around the globe. As a responsible person, I've managed to remain employed in my current role with Apple and decided to expand my skill set in the science of business and economics at the American University in Switzerland - AUS. I was admitted with a scholarship for personal and professional achievements in human and economic development. The cost of living in Switzerland is relatively higher than that in many EU countries. I'll remain employed part-time to be able to handle most of the study and living costs but I'll need access to additional funding as I' have moved to Switzerland in early September 2020 and will remain here for at least the next 10 years. The total cost of my program at AUS is CHF 40,500 and I received a professional merit scholarship of CHF 25,000. I have to cover the remaining CHF 19,000 and some living expenses until I switch from part-time back to full-time employment. For this, I'll need approximately CHF 36,000 for the entire duration of my program, so that I can focus on my studies and graduate faster. I have prepared my student budget, and have planned for all sorts of costs and emergencies. I can start repaying the proposed loan as early as possible and can back up the loan with income from employment.
---
This is what I need
Credit amount

CHF 14'000
Maximum interest rate

7.5%
Start date

October 2020
Study time

24 months
Re-payment starts

October 2022
Re-payment time

48 months
Loan fully paid back

September 2026
---
This is my plan
School/University

American University in Switzerland
Main field of study

Business Administration
Additional fields of study

Business Administration
Begin of study

September 2020
End of study

January 2022
Current semester

1
Plans after study

I'm an experienced executive management professional with 18 years of experience in the field. I've worked for large international organizations and private corporations including the United Nations, the US Peace Corps, Qantas Airways, the European Space Agency and Apple. My ultimate goal is to move into Supply Chain Management within my current company or another large international corporation and pursue a PhD degree in Accountancy and Supply Chain Management. I've been working hard to engage in a university career while working in Switzerland. I'm returning to school for 2 years in Switzerland in order to complete the minimum requirements for a PhD in Business Administration. I have a dual Executive MBA from the University of Minnesota Carlson School of Management and the Vienna University of Economics, which has played a vital role in my career, as I constantly challenge myself both professionally and academically.
Auction
Auction Closed
12 bids, CHF 14'000 of CHF 14'000 filled
Calculate your sustainable return
CHF 14'000
Investment Amount
5.0%
Interest Rate
Your return (net of fees)
-
Contact Student
You have to be registered as investor to contact students.
Place bid
You need to complete the full registration first in order to place a bid. Please click on "Register as Investor"in the navigation bar.
You have to be registered as investor to place bids.
Sorry, but you can not place bids yet!
To place bids you must be registered as investor and have an active splend!t account.
Stop your auction early?
You're there! Investors like you and placed bids for the full amount you requested in your auction. Well done! Just be aware that if you stop the auction now, you will give up our chance of receiving better offers until expiry.
You are about to place an all-in! bid!
Are you sure you want to place this all-in! bid?
Amount: CHF 14000.00
Interest: %
Period: 72 Months
Payout date: October 2020
You are about to place a bid...
Are you sure to place this bid?
Amount: CHF
Interest: %
Period: 72 Months
Payout date: October 2020
Please adjust your settings
The interest rate will result a negative return and you will not be able to place bid
Lender full filled action settings
Lender full filled action description