Life achievement together!
This is me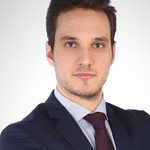 Nick name

Simo93
Age

27 years
Highest education

University of St. Gallen
---
This is my Credit Motivation
Dear all,
My name is Simone Longo, I am Italian and I work/live in Zürich.
I am going to start my MBA in St. Gallen in August 2020 and the reason, I ask for your support, is to pay the costs of the fees for these studies.
I have less than 4 years of full-time experience but I am highly driven, self-confident, motivated and creative thinker. I have also been selected as a recipient of the "Early Achiever" Scholarship awarded by the university of St. Gallen.
I always wanted to invest on myself and on my career and that's why I left Italy to study my bachelor in Scotland and Spain. Concurrent to my bachelor studies, I applied my university knowledge in starting a company in Costa Rica. A small firm that was meant to rent buggies to tourists and organize adventurous tours. It was an incredible experience which allowed me to grow personally and to experience a very different culture/environment.
Studying and working abroad permitted me to gain more confidence, knowledge and experience which I applied in Luxembourg and in Switzerland with UBS.
I kept on studying while working and during these years and I successfully completed the Investment Management Certificate (IMC) offered by the CFA UK Society. Currently, I am also an ESG Certificate candidate with the same institution.
In addition, in February 2018, I started my part-time Master of Science in Finance at the University of Aberdeen and I successfully graduated in February 2020.
Now, I am willing and ready to start a new journey towards professional and personal development where I feel at home, in Switzerland.
I feel like this experience can enhance my holistic view and ability to seize different opportunities, that ultimately could be applied in many situations. This MBA is important to me for my personal and professional progression and also to generate the impact I want to have on society.
Concluding, I thank you for taking time to read my application. I sincerely hope you feel I deserve your support as a fundamental help on this endeavor.
---
This is what I need
Credit amount

CHF 45'000
Maximum interest rate

8%
Start date

June 2020
Study time

30 months
Re-payment starts

December 2022
Re-payment time

48 months
Loan fully paid back

November 2026
---
This is my plan
School/University

University of St. Gallen
Main field of study

MBA
Additional fields of study

MBA
Begin of study

August 2020
End of study

August 2022
Current semester

4
Plans after study

My long-term objectives are to contribute to the society transformation and advancement. I want to become a force in our community to inspire many people to achieve their goals in life, either through strong leadership in major companies, politics or through entrepreneurship.
Auction
Auction Closed
27 bids, CHF 45'000 of CHF 45'000 filled
Calculate your sustainable return
CHF 45'000
Investment Amount
6.0%
Interest Rate
Your return (net of fees)
-
Documents
---
---
---
---
---
---
---
Contact Student
You have to be registered as investor to contact students.
Place bid
You need to complete the full registration first in order to place a bid. Please click on "Register as Investor"in the navigation bar.
You have to be registered as investor to place bids.
Sorry, but you can not place bids yet!
To place bids you must be registered as investor and have an active splend!t account.
Stop your auction early?
You're there! Investors like you and placed bids for the full amount you requested in your auction. Well done! Just be aware that if you stop the auction now, you will give up our chance of receiving better offers until expiry.
You are about to place an all-in! bid!
Are you sure you want to place this all-in! bid?
Amount: CHF 45000.00
Interest: %
Period: 78 Months
Payout date: June 2020
You are about to place a bid...
Are you sure to place this bid?
Amount: CHF
Interest: %
Period: 78 Months
Payout date: June 2020
Please adjust your settings
The interest rate will result a negative return and you will not be able to place bid
Lender full filled action settings
Lender full filled action description