MBA at UNI St. Gallen
This is me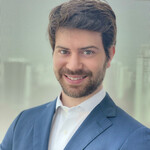 Nick name

OESA
Age

34 years
Highest education

University of St. Gallen
---
This is my Credit Motivation
I'm a MBA candidate for the 2022 class of the University of St. Gallen and I am a lawyer with a background in finance and corporate law, having worked in first-class law firms in Brazil and in the Intesa Sanpaolo Bank.
I wish to change my career path and leverage my critical capabilities in order to seek new challenges in fintechs or tech industry with a global reach and potential.
I see my MBA at St. Gallen as an unique opportunity for exposing myself to one of the most challenging programs, which will no doubt allow for my professional growth and open more opportunities for my future.
However, due to some recent family issues as well as the impact of COVID and governmental decisions, my savings in BRL have significantly lost value compared to CHF.
I've received a partial scholarship to ease the financial burden of the tuition fees, however I still need to ensure that the remainder of the tuition fees are paid, as well as that I'm able to pay for my living expenses.
---
This is what I need
Credit amount

CHF 60'000
Maximum interest rate

6.5%
Start date

June 2022
Study time

12 months
Re-payment starts

June 2023
Re-payment time

48 months
Loan fully paid back

May 2027
---
This is my plan
School/University

University of St. Gallen
Main field of study

Full-time MBA
Additional fields of study

Full-time MBA
Begin of study

December 2021
End of study

September 2023
Current semester

0
Plans after study

Given my professional, experience, I feel that I will be prepared to pursue opportunities in the fintech or technology sectors, with a viable alternative to continue my career in the financial sector. I do intend, however to direct my post-studies career to focus more on the application of new technologies such as IA as a general or project manager in the industry.
Auction
Auction Closed
10 bids, CHF 18'000 of CHF 60'000 filled
Calculate your sustainable return
CHF 60'000
Investment Amount
5.0%
Interest Rate
Your return (net of fees)
-
Contact Student
You have to be registered as investor to contact students.
Place bid
You need to complete the full registration first in order to place a bid. Please click on "Register as Investor"in the navigation bar.
You have to be registered as investor to place bids.
Sorry, but you can not place bids yet!
To place bids you must be registered as investor and have an active splend!t account.
Stop your auction early?
You're there! Investors like you and placed bids for the full amount you requested in your auction. Well done! Just be aware that if you stop the auction now, you will give up our chance of receiving better offers until expiry.
You are about to place an all-in! bid!
Are you sure you want to place this all-in! bid?
Amount: CHF 60000.00
Interest: %
Period: 60 Months
Payout date: June 2022
You are about to place a bid...
Are you sure to place this bid?
Amount: CHF
Interest: %
Period: 60 Months
Payout date: June 2022
Please adjust your settings
The interest rate will result a negative return and you will not be able to place bid
Lender full filled action settings
Lender full filled action description