South African Postgraduate Student
This is me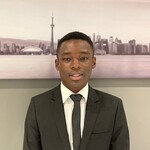 Nick name

Université de Genève 2023
Age

23 years
Highest education

Université de Genève
---
This is my Credit Motivation
Hello
I studied a Bachelor of Social Science at the University of Cape Town. I have recently been accepted to study a Master of Science in Commodity Trading at the University of Geneva. It is a unique program where students are able to study and work part time in commodity trading, shipping or finance.
I was also accepted for a Master in Political Economy at the University of Geneva, and a Master in Political, Legal and Economic Philosophy at University of Bern.
Due to the high living costs in Switzerland and the significant devaluation of my South African currency - I am writing to express my strong motivation for funding to cover Tuition fees, Student Accommodation, Books and subsistence at the University of Geneva.
---
This is what I need
Credit amount

CHF 7'500
Maximum interest rate

8%
Start date

July 2023
Study time

24 months
Re-payment starts

July 2025
Re-payment time

38 months
Loan fully paid back

August 2028
---
This is my plan
School/University

Université de Genève
Main field of study

Master of Science in Commodity Trading
Additional fields of study

Master of Science in Commodity Trading
Begin of study

September 2023
End of study

September 2024
Current semester

3
Plans after study

I want to start my career in Commodities in Switzerland to eventually return to South Africa. I am particularly interested in the fields of international energy and agriculture. The reason I would like to pursue this program at the University of Geneva is because it is unique in offering both academic and practical experience through internship work.

I already have an offer from a boutique trading firm in Geneva for my traineeship. After the 1 year work experience, it is my ambition to apply to work for one of the larger commodity trading firms in Switzerland such as Vitol, Trafigura or Mercuria. These firms also have operations in Africa, and therefore I would be very well prepared to start my career once I return.

South Africa is the most advanced, diversified, and productive economy in Africa and is positioned very well in international trade. It is one of the largest global exporters of Platinum, Iron, Gold, Aluminium and many other precious metals. As well as many Agricultural commodities such as Grain, Wheat, Corn and Soybean. Furthermore, South Africa's oil and gas industry remains largely unexplored and this would potentially transform South Africa's crippling energy economy and turn the country into a net exporter of energy. I believe this program will give me the opportunity to develop a stronger technical skillset to apply to build a career in International business.

Commodities trading, shipping and finance jobs pay very well in Switzerland, so I am sure that I will have no issues paying the loan back. I hope you will consider my application, I am excited to gain this once in a lifetime opportunity to step out of my comfort zone, learning French & German, and challenging myself in a new cultural and academic environment in Geneva.

Thank you very much!
Auction
Auction Closed
7 bids, CHF 7'500 of CHF 7'500 filled
Calculate your sustainable return
CHF 7'500
Investment Amount
6.0%
Interest Rate
Your return (net of fees)
-
Documents
---
---
---
---
---
Contact Student
You have to be registered as investor to contact students.
Place bid
You need to complete the full registration first in order to place a bid. Please click on "Register as Investor"in the navigation bar.
You have to be registered as investor to place bids.
Sorry, but you can not place bids yet!
To place bids you must be registered as investor and have an active splend!t account.
Stop your auction early?
You're there! Investors like you and placed bids for the full amount you requested in your auction. Well done! Just be aware that if you stop the auction now, you will give up our chance of receiving better offers until expiry.
You are about to place an all-in! bid!
Are you sure you want to place this all-in! bid?
Amount: CHF 7500.00
Interest: %
Period: 62 Months
Payout date: July 2023
You are about to place a bid...
Are you sure to place this bid?
Amount: CHF
Interest: %
Period: 62 Months
Payout date: July 2023
Please adjust your settings
The interest rate will result a negative return and you will not be able to place bid
Lender full filled action settings
Lender full filled action description