Studying Acting for Film in Los Angeles
This is me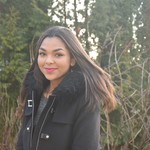 Nick name

Chele Oriane
Age

19 years
Highest education

New York Film Academy
---
This is my Credit Motivation
Nach drei Monaten Aufwand (kurzes Drehbuch schreiben, Szenen nachspielen...) wurde ich schliesslich an der Schauspielschule angenommen.
Ab September 2018 werde ich an der New York Film Academy in Los Angeles Acting for Film (Bachelor of Fine Arts) drei Jahre lang studieren. Im Laufe der Jahre lerne ich, wie ich mich vor der Kamera verhalten muss (Körpersprache, Gesichtsausdruck) und noch vieles mehr. Neben dem praktischen Teil werde ich auch viel Theorie dazu lernen müssen. Im ersten Studienjahr werden wir uns eher noch mit Allgemeinbildung (z.B. Geschichte) befassen und erst ab dem zweiten/dritten Studienjahr vor die Kamera gehen.
Das Studium kostet pro Jahr CHF 32'000 und ich rechne mit mindestens CHF 20'000 Unterhaltskosten pro Jahr, da das Leben in Los Angeles teuer ist.
Am Ende dieser drei Jahre (Sommer 2021) darf ich mich als eine professionelle Schauspielerin bezeichnen. Natürlich möchte ich mir diesen Traum zum Beruf machen und davon leben können. Ich bin ziemlich zuversichtlich, ehrgeizig und motiviert, dies zu schaffen.
Meine Eltern werden mich beim Zurückzahlen des Kredites unterstützen und treten als Solidarbürge ein.
---
This is what I need
Credit amount

CHF 50'000
Maximum interest rate

7.5%
Start date

July 2018
Study time

12 months
Re-payment starts

July 2019
Re-payment time

48 months
Loan fully paid back

June 2023
---
This is my plan
School/University

New York Film Academy
Main field of study

Acting for Film
Additional fields of study

Acting for Film
Begin of study

September 2018
End of study

September 2021
Current semester

0
Plans after study

Wenn es möglich wäre und sich meine Meinung bis dann nicht ändert, würde ich gerne nach meinem Studium in Los Angeles bleiben. Ziel wäre es natürlich Jobs als Schauspielerin in Filmen, Serien und Werbungen zu erhalten und davon leben zu können. Falls dies nicht klappen sollte, werde ich mir in Los Angeles oder wieder in der Schweiz einen Job suchen. Auf jeden Fall bleibe jedoch optimistisch!
Auction
Auction Closed
5 bids, CHF 15'000 of CHF 50'000 filled
Calculate your sustainable return
CHF 50'000
Investment Amount
5.0%
Interest Rate
Your return (net of fees)
-
Documents
---
---
---
---
---
---
---
---
---
Messages
---
Contact Student
You have to be registered as investor to contact students.
Place bid
You need to complete the full registration first in order to place a bid. Please click on "Register as Investor"in the navigation bar.
You have to be registered as investor to place bids.
Sorry, but you can not place bids yet!
To place bids you must be registered as investor and have an active splend!t account.
Stop your auction early?
You're there! Investors like you and placed bids for the full amount you requested in your auction. Well done! Just be aware that if you stop the auction now, you will give up our chance of receiving better offers until expiry.
You are about to place an all-in! bid!
Are you sure you want to place this all-in! bid?
Amount: CHF 50000.00
Interest: %
Period: 60 Months
Payout date: July 2018
You are about to place a bid...
Are you sure to place this bid?
Amount: CHF
Interest: %
Period: 60 Months
Payout date: July 2018
Please adjust your settings
The interest rate will result a negative return and you will not be able to place bid
Lender full filled action settings
Lender full filled action description