Invest in an MBA candidate
Das bin ich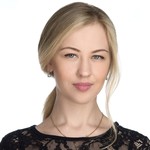 Nickname

Catherine de Lausanne
Alter

27 Jahre
Höchste Ausbildung

IMD Lausanne
---
Darum brauche ich einen Bildungskredit
Hello! I am Ekaterina Volkovich and I always try to set challenging goals and do my best in order to reach them. One of my goals was to study at IMD in Lausanne, and I am happy that IMD accepted me as an MBA student (starting on January 2022) and honored with the Merit Scholarship. However, I still need funds to cover part of the fees and living expenses.
Please, contact me at katvolkovich@mail.ru. I will be happy to answer your questions.
About me: I have 6 years of experience in cyber security and data privacy, working last 4 years in Cyber Security department at KPMG. I graduated from Bauman Moscow State Technical University and have a specialist degree in information security (diploma with honors), I also had an internship during a semester at EPFL in Lausanne in the Computer Science faculty.
Request: I'm requesting the credit to help me fund part of IMD's MBA tuition fees and part of the living expenses while studying during a year.
Reason: It is very hard to find a loan of this size in Russia, particularly with an acceptable interest rate. In addition, it is impossible to have a loan in CHF. I have some savings, the scholarship from IMD, my parents helped me with a certain amount, however, I need more 40 000 CHF, so I would like to fund my studies with your help.
Plan to repay the loan: My goal is to find a job in Switzerland after graduation from IMD.
---
Ich brauche
Erwünschter Betrag

CHF 40'000
Maximaler Zinssatz

7%
Anfangsdatum

Oktober 2021
Zinsperiode

24 months
Beginn Rückzahlung

Oktober 2023
Rückzahlungsdauer

48 months
Schulden zurückbezahlt

September 2027
---
Das ist mein Plan
Schule/Uni

IMD Lausanne
Hauptstudienrichtung

MBA (Master in Business Administration)
Zusätzliche Studiengebiete

MBA (Master in Business Administration)
Studienbeginn

Dezember 2021
Abschluss des Studiums

Dezember 2022
Derzeitiges Semester

0
Plan nach Studium

My short-term goal after graduation from IMD is to change a location. I plan to live and work in Switzerland. Therefore, first I would like to become a Data Protection Officer (DPO) of a company in Switzerland.

My long-term goal is to change the direction what I am doing. Now I align the companies with the applicable information security and data privacy requirements. But I am also very interested in the automation topic. I think that it would be great to combine my skills in these two directions. I am interested in a development of data privacy automation tools to help DPOs to automate their tasks. Privacy by design is also a hot topic now.

If you are a potential employer I would be happy to discuss with you possible opportunities in Switzerland after my graducation. I did an investigation and the potential employers after IMD were the following companies: KPMG, Accenture, Nestlé, Danone, Siemens, Danaher, PMI, Hilti, Digital BCG, Bain Vector, Tera Pak, Logitech, Amazon, Johnson & Johnson, etc.

According to statistics on the IMD website, an average annual salary of graduates is $126,565 and a joining bonus of $36,926. Therefore, I am confident I'll be able to repay the loan.
Auktion
Auktion geschlossen
37 Gebote, CHF 40'000 of CHF 40'000 gefüllt
Berechne deinen nachhaltigen Ertrag
CHF 40'000
Investierter Betrag
5.0%
Zins
Student kontaktieren
Du musst als Investor angemeldet sein, um Studenten zu kontaktieren.
Gebot abgeben
Deine Registrierung ist noch nicht abgeschlossen. Bitte klicke auf "Als Investor registrieren" in der Navigationsleiste.
Du musst als Investor registriert sein, um ein Gebot abgeben zu können.
Sorry, aber du darfst noch nicht mitbieten!
Um mitbieten zu können, musst du als Investor registriert sein und ein aktives splend!t Konto haben.
Auktion frühzeitig beenden?
Du bist am Ziel! Investoren finden dich gut und haben den vollen Betrag deiner Auktion geboten. Gut gemacht! Beachte einfach, dass du die Chance auf bessere Gebote aufgibst, wenn du die Auktion jetzt beendest.
Du möchtest ein all-in! Gebot abgeben!
Bist du sicher, dass du dieses all-in! Gebot abgeben möchtest?
Betrag: CHF 40000.00
Zins: %
Laufzeit: 72 Monate
Auszahlungsdatum: Oktober 2021
Du möchtest bieten...
Bist Du sicher, dass du dieses Gebot abgeben möchstest?
Betrag: CHF
Zins: %
Laufzeit: 72 Monate
Auszahlungsdatum: Oktober 2021
Bitte passen Sie Ihre Einstellungen an
Der gewählte Zins wird zu einer negativen Rendite führen. Sie können damit kein Angebot platzieren.
Lender full filled action settings
Lender full filled action description