Meine Ausbildung als Interaction Designer
This is me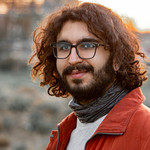 Nick name

Gueneysel
Age

22 years
Highest education

ZHDK Zürcher Hochschule der Künste
---
This is my Credit Motivation
In meiner Ausbildung erwerbe ich grundlegendes, digitales Handwerk.
Die Aneignung von kreativen, gestalterischen, methodischen und technologischen Fähigkeiten erfolgt in den Bereichen User Experience Design, Service Design, räumlichem und performativem Design sowie Programmier- und Produkt-Design-Fähigkeiten. Vordergründiges Lernziel ist die Fähigkeit zu entwickeln, Projektkontexte und Anforderungen präzise zu analysieren und relevante Vorgehensweisen auszuwählen. Teil des Studiums ist auch die Entwicklung von Lösungsansätzen in Form von umfassenden Konzepten und die wirksame Umsetzung in verschiedene Kontexte wie Agentur-, Forschungs- oder Ausstellungen, gestalterisch und technologisch zu vermitteln.
Ich befinde mich bereits im fünften Semester des Bachelor-Studiengangs Interaction Design an der ZHdK, und mein Kreditantrag ist für das fünfte und sechste Semester. Ich konnte meine Ausbildung dank meiner Fähigkeiten in Design und Technik mit selbstständiger Arbeit finanzieren, aber das diesjährige Programm ist sehr intensiv, weshalb ich keine Zeit für die Lohnarbeit finden kann.
---
This is what I need
Credit amount

CHF 18'000
Maximum interest rate

8%
Start date

October 2021
Study time

8 months
Re-payment starts

June 2022
Re-payment time

24 months
Loan fully paid back

May 2024
---
This is my plan
School/University

ZHDK Zürcher Hochschule der Künste
Main field of study

Interaction Design
Additional fields of study

Interaction Design
Begin of study

September 2019
End of study

June 2022
Current semester

2
Plans after study

Im Juni 2022 werde ich mein Bachelor-Studium abschliessen und direkt ins Berufsleben einsteigen. Die in meinem Studium erworbenen Fähigkeiten in den Bereichen UX - Produktdesign, Service Design und Programmierung sind meine Interessensgebiete, und Leute mit diesen Fähigkeiten werden immer gesucht. Da ich bereits über mehrere Jahre Berufserfahrung verfüge und ein Portfolio von Kunden habe, wird die Jobsuche nach dem Studium problemlos sein.
Auction
Auction Closed
11 bids, CHF 18'000 of CHF 18'000 filled
Calculate your sustainable return
CHF 18'000
Investment Amount
6.0%
Interest Rate
Your return (net of fees)
-
Contact Student
You have to be registered as investor to contact students.
Place bid
You need to complete the full registration first in order to place a bid. Please click on "Register as Investor"in the navigation bar.
You have to be registered as investor to place bids.
Sorry, but you can not place bids yet!
To place bids you must be registered as investor and have an active splend!t account.
Stop your auction early?
You're there! Investors like you and placed bids for the full amount you requested in your auction. Well done! Just be aware that if you stop the auction now, you will give up our chance of receiving better offers until expiry.
You are about to place an all-in! bid!
Are you sure you want to place this all-in! bid?
Amount: CHF 18000.00
Interest: %
Period: 32 Months
Payout date: October 2021
You are about to place a bid...
Are you sure to place this bid?
Amount: CHF
Interest: %
Period: 32 Months
Payout date: October 2021
Please adjust your settings
The interest rate will result a negative return and you will not be able to place bid
Lender full filled action settings
Lender full filled action description